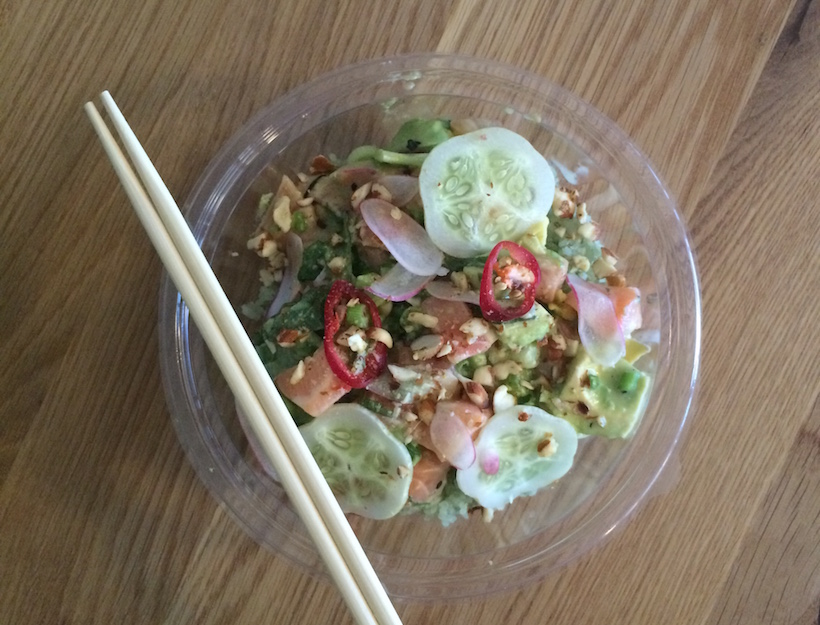 Sweetfin's new farmer's market bowls are created every Wednesday with local ingredients found at the Santa Monica Farmer's Market. Great idea, even better poke bowl.
1. First, make the almond crunch. Preheat the oven to 350°F and roast almonds on a baking sheet for 10 minutes.
2. Remove them to a large bowl and toss with a pinch of sea salt, olive oil, and lemon zest.
3. Let almonds cool to room temperature before chopping into small pieces.
4. To make the classic sauce, whisk together all ingredients until well combined.
5. To assemble the poke bowls, place 1/2-1 cup rice (depending on hunger level) in the bottom of four bowls.
6. Toss salmon with the classic sauce and arrange on top of the rice along with lemon cucumbers, baby radishes, shiso leaves, avocados and fresno chiles.
7. Garnish with almond crunch.
Originally featured in Easy & Quick Lunch: The Dockweiler