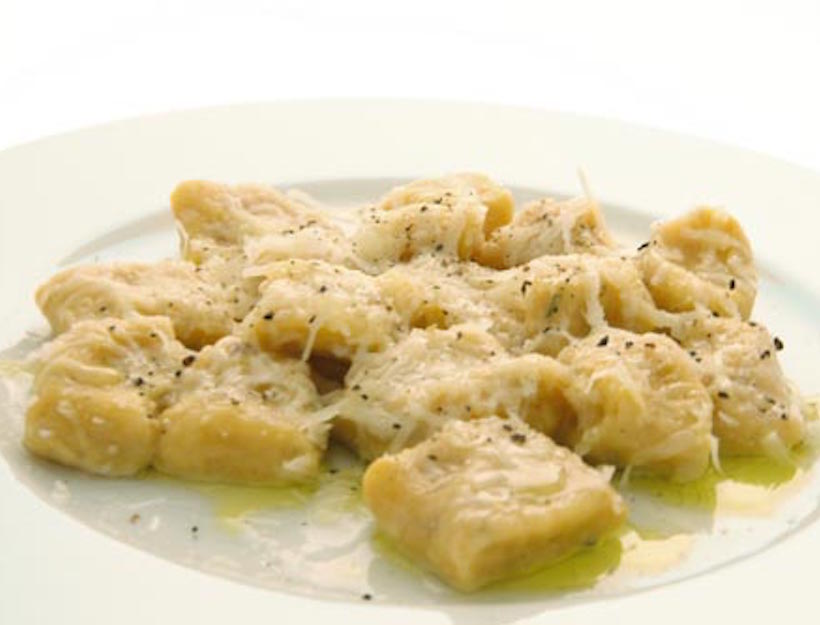 The great Ruthie Rogers has shared with us a recipe from her new book, The River Café Classic Italian Cook Book, which is very autumnal and would make either a fantastic first course, or a great vegetarian main. She does hers with pumpkin but we thought we would give it a go with sweet potato. It turned out just beautifully. The perfect thing to do with any leftover sweet potato or pumpkin from your feast. In their new book, Ruthie and Rose Gray also suggest serving this with melted butter and sage.
1. Preheat the oven to 375°F.
2. Mix together the sweet potatoes with the olive oil, chili, oregano and a large pinch of salt in a roasting tray and cover tightly with aluminum foil. Bake until very soft, about 30 minutes.
3. Meanwhile, cook the regular potatoes in boiling water with a large pinch of salt until cooked through, about 30-40 minutes. When cool enough to handle, peel and quarter.
4. Pass the sweet potatoes and the boiled potatoes through a ricer or a food mill into a large mixing bowl. Stir in the egg and a large pinch of salt. Gradually add the flour, stirring first with a wooden spoon and then your hands, until a dough forms. It is essential to do this quickly, otherwise the gnocchi will become very heavy if overworked.
5. Lightly dust a clean board or counter with flour. Divide the dough into 6 pieces. Dust each piece with flour and roll until it's about ¾" in diameter. Cut into 1″ long pieces. At this point you can leave the gnocchi as is or roll them on the tines of a fork. Stash the gnocchi on a flour-dusted cookie sheet as you continue rolling and cutting the rest.
6. When you're ready to eat, bring a pot of water to a boil with a large pinch of salt. Cook the gnocchi, about a dozen at a time, for 4-5 minutes (let them cook for a minute or two after they float to the top). Remove with a slotted spoon, transfer to a warm serving dish and serve drizzled with extra virgin olive oil, a generous grating of parmesan, a pinch of salt and a few grinds of black pepper.
Originally featured in Leftover Turkey Revamped