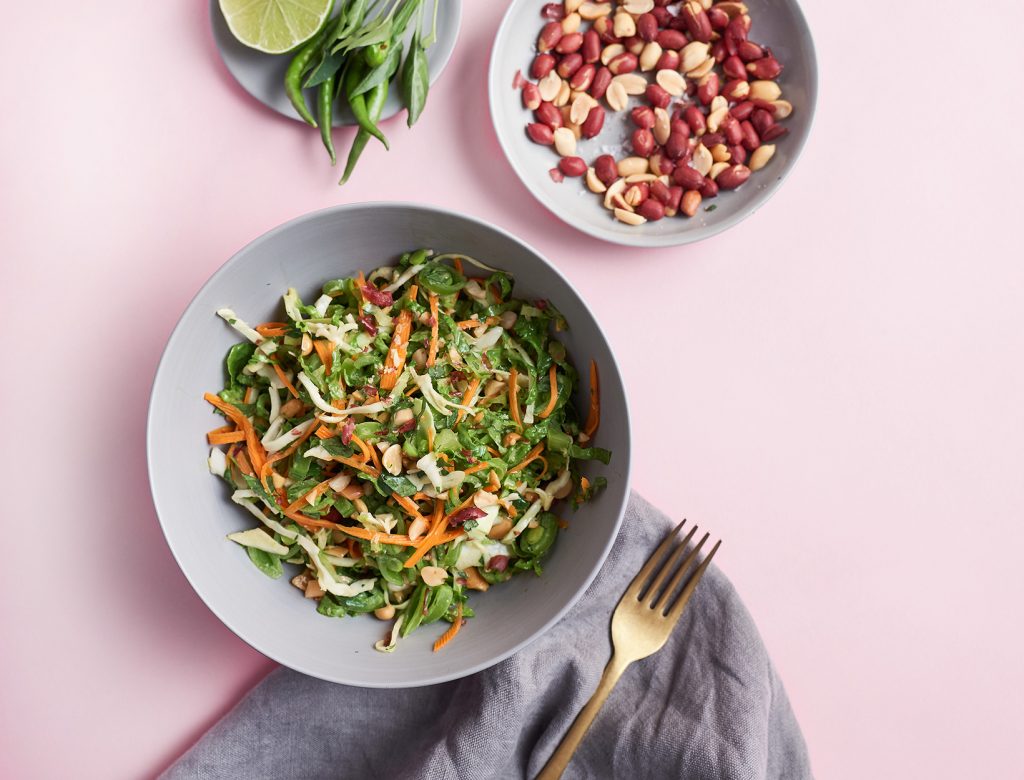 Thai-Style Slaw
This slaw is inspired by the green papaya salad we always go for at our favorite Thai restaurants. It's fresh, crunchy, spicy, and a little sweet. It's a super satisfying lunch on its own, but we would not be mad at you if you paired it with fried chicken thighs and sticky rice for dinner.
1 cup shredded cabbage
1 cup shredded romaine hearts
½ cup grated carrot
½ cup chopped snap peas
¼ cup roughly chopped cilantro
¼ cup rough chopped roasted peanuts, plus a little extra to garnish
for the dressing:
2 cloves garlic
1 Thai bird's-eye chili
1 tablespoon coconut nectar
1 tablespoon fish sauce
zest and juice of 1½ limes
2 tablespoons olive oil
1. Combine all the salad ingredients in a bowl and toss well to evenly mix the cabbage, lettuce, and carrots.
2. To make the dressing, put the first 5 ingredients in a blender and blend. Remove the center insert of the blender top, slowly drizzle in the olive oil, and blend until the garlic and chili are pulverized.
3. Toss the salad with the dressing and finish with the extra chopped peanuts.
Originally featured in Refreshingly Simple Salad Ideas for When It's Hot Out