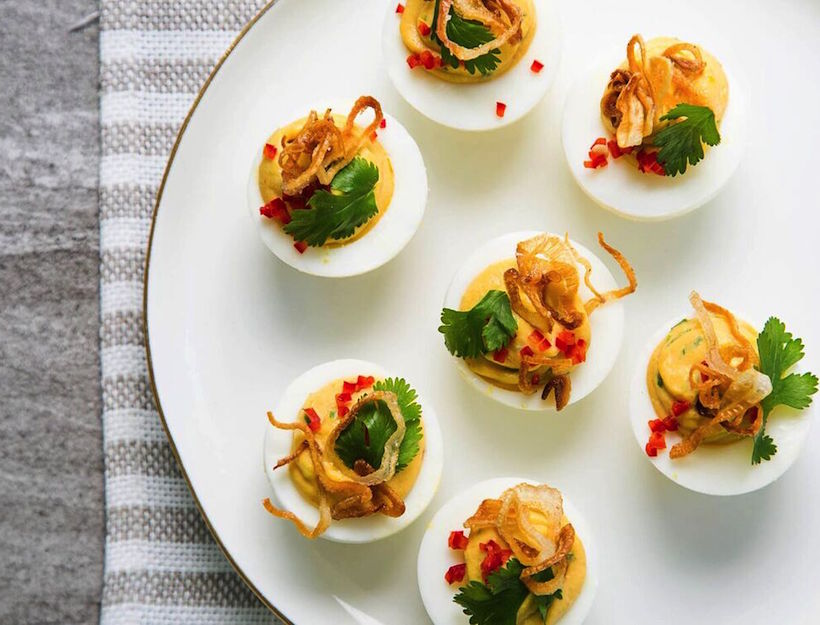 Thai-Style Deviled Eggs
A fun twist on a classic, these are seriously addictive.
6 eggs
4 tablespoons vegenaise
4 teaspoons Dijon mustard
1 teaspoon sriracha
4 teaspoons lime juice
2 tablespoons finely minced scallion (about 2 small scallions)
salt
1 large shallot, peeled and thinly-sliced
1/3 cup peanut oil + more as needed
12 cilantro leaves
1 tablespoon very finely minced red jalapeño
1. Bring a medium saucepan with water up to a boil over high heat. Carefully add the eggs to the saucepan and set a timer for 11 minutes. When the timer goes off, use a slotted spoon to remove the eggs and place them in a bowl filled with ice water to stop the cooking. Peel when cooled.
2. Cut the eggs in half and use a small spoon to scoop the yolks into a medium bowl. Use a fork to smash the yolks, then add vegenaise, Dijon mustard, sriracha, lime juice, and scallion. Whisk together until very smooth, and season to taste with salt. Store in the fridge until ready to use.
3. To make the crispy shallots, combine thinly sliced shallot and peanut oil in the smallest saucepan you have. Add oil as necessary just to cover the shallots. Bring the mixture up to a simmer over medium heat; reduce heat to maintain a steady simmer and cook for 5-7 minutes, or until lightly brown. Use tongs or a slotted spoon to remove shallots to a paper towel-lined plate (don't worry if they don't feel crispy—they will crisp up as they cool) and season immediately with a pinch of salt.
4. While the shallots cool, use a spoon or pastry bag to carefully fill each egg white half with the egg yolk filling. Top each deviled egg with a couple of crispy shallots, a cilantro leaf, and a pinch of minced red jalapeño. Serve immediately.
Originally featured in A New Twist on Classic Holiday Apps