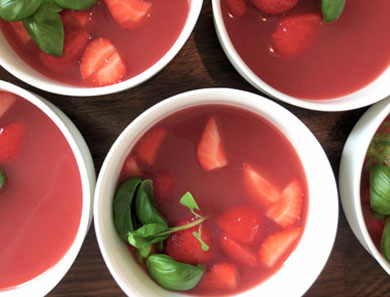 A refreshing, delicious and gluten/dairy/sugar-free dessert.
1. Puree strawberries in a blender with 1 cup of coconut milk. Place in a large bowl or container with the lemongrass, lime leaves and basil, cover and leave overnight to infuse.
2. Place sliced strawberries at the bottom of four serving bowls.
3. Strain the soup to remove the aromatics, and pour into serving bowls on top of strawberries.
4. Add the other cup of coconut milk to a pan and place over medium heat. Using a thermometer, allow the milk to come up to around 100°F but not over 118°F. Whisk the milk over the heat until it foams.
5. Top soup with coconut milk foam and small basil leaves.
*This recipe has not been tested by the goop test kitchen.
Originally featured in Cooking in the Raw