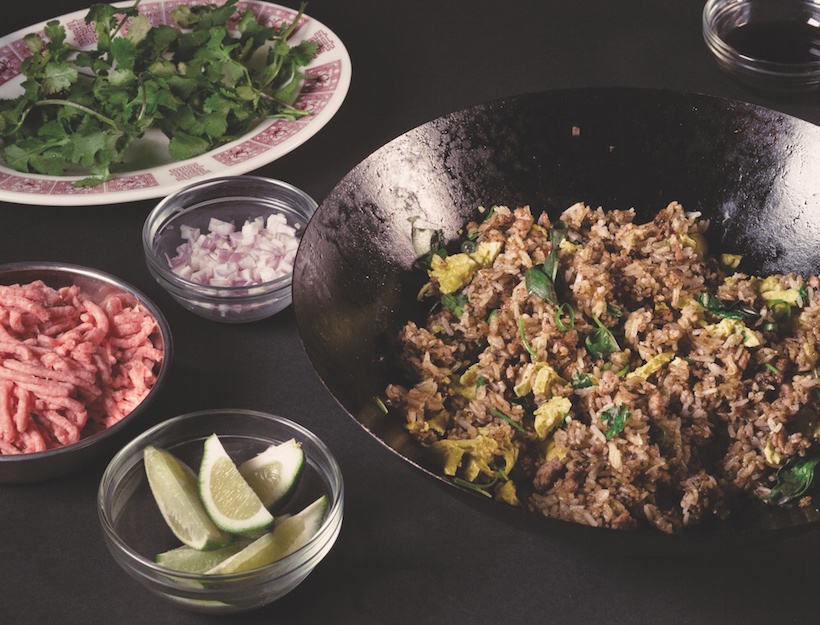 Thai Herb Fried Rice
The fresh herbs add incredible flavor to this fried rice. If you don't have leftover rice, cook some fresh and spread it out on a baking sheet so that it can cool and dry out more quickly.
3 cups cooked and cooled long-grain rice (preferably a day old)
1/2 large shallot, minced
4 ounces ground pork
1 tablespoon fish sauce, or more to taste
1 teaspoon sugar
10 grinds white pepper (scant 1/4 teaspoon)
2 tablespoons neutral oil
2 large eggs, beaten
1 tablespoon chopped garlic
1 tablespoon chopped ginger
2 scallions, thinly sliced, white and greens separated
1/2 cup herbs (picked mint leaves, torn basil leaves, cilantro stems and leaves)
+ lime wedges (for serving, not tossing in the rice)
1. Put the rice in a large bowl and break up any clumps with your hands. Set the rice, the shallot and pork, and the fish sauce, sugar, and white pepper in three separate bowls near the stove.
2. Heat 1 tablespoon of the oil in a wok or heavy skillet over high heat. Pour the eggs into the skillet and cook, folding the cooked egg up and over itself until set but still glossy and tender, about 30 seconds. Remove to a plate and return the pan to the heat.
3. Add the remaining 1 tablespoon oil to the pan, then, a moment later, the garlic, ginger and scallion whites. Sitr-fry for just a few seconds, then add the minced shallot and pork. Continue stir-frying until hot and cooked through, 1 to 3 minutes.
4. Dump the rice into the pan and toss to mix. Use a spatula to spread the rice out and maximize contact with the hot pan. Stir and fold once a minute for 3 minutes, until all of the rice is hot and a little charred in spots.
5. Pour the fish sauce, sugar and white pepper mixture over the rice and toss to coat everything. This is a good moment to consider investing in a wok spatula for next time. Honestly, I'm surprised you've made it this far without one. You're worth it!
6. Keep cooking, tossing, spreading, and tossing again, until the rice is evenly colored and looks pleasantly dry. Return the scrambled eggs to the pan, chopping a couple of times to break them up, and toss in the scallion greens and fresh herbs.
Originally featured in The Lucky Peach Cookbook is Great: A Few Of Our Favorite Recipes