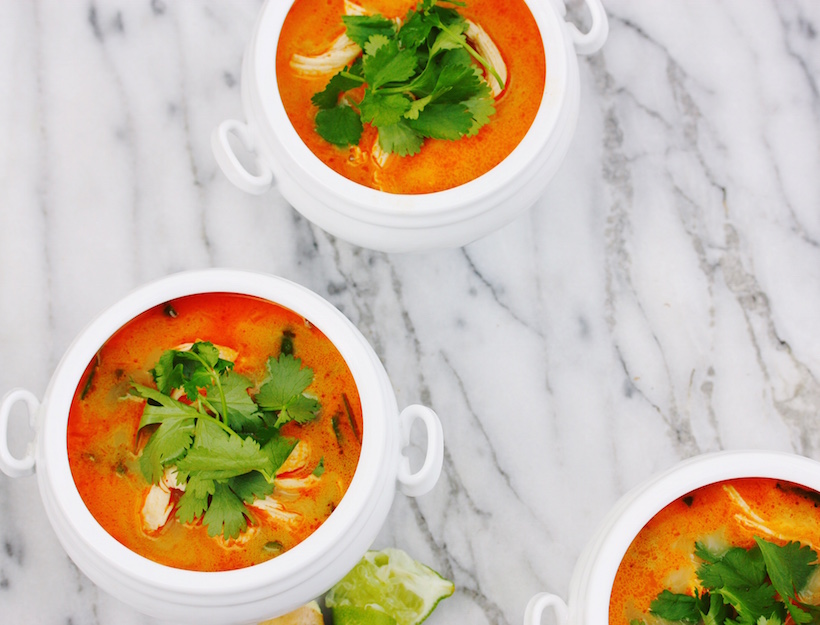 This soup is clean and comforting. Make your own curry paste, or be sure to use one that is gluten free and shellfish free. We like Thai Kitchen brand. If you can find thai basil, use it chopped as a garnish along with the cilantro.
1. Put the chicken stock, lemongrass, garlic clove, ginger, cilantro, chicken breast and large pinch of salt in medium saucepan. If the liquid doesn't cover the chicken, switch to a smaller pot, add water to cover, or cut chicken into smaller pieces (this will make the cooking time shorter). Bring the mixture up to a boil; turn off the heat, cover and let sit for 20 minutes, or until cooked through.
2. Remove the chicken, shred, and reserve the poaching liquid.
3. In a separate saucepan, heat 1 tablespoon coconut oil over medium heat. Add sliced shallots, and sauté until soft and beginning to brown, about 5 minutes.
4. Add the curry paste, and sauté for one minute to cook a bit.
5. Use a fine mesh sieve to strain the chicken poaching liquid into the shallot/curry paste mixture. Add 3 kaffir lime leaves, and allow to simmer gently.
6. Meanwhile, de-stem and de-string the green beans and snow peas, and cut into half inch pieces.
7. Bring a small pot of salted water to a boil, add the veggies, and drain as soon as they come back up to a boil.
8. Add coconut milk, shredded chicken, blanched veggies, lime juice, tamari and coconut sugar to the soup.
9. Taste for seasoning, garnish with cilantro and serve with extra lime on the side.
Originally featured in The Annual goop Detox