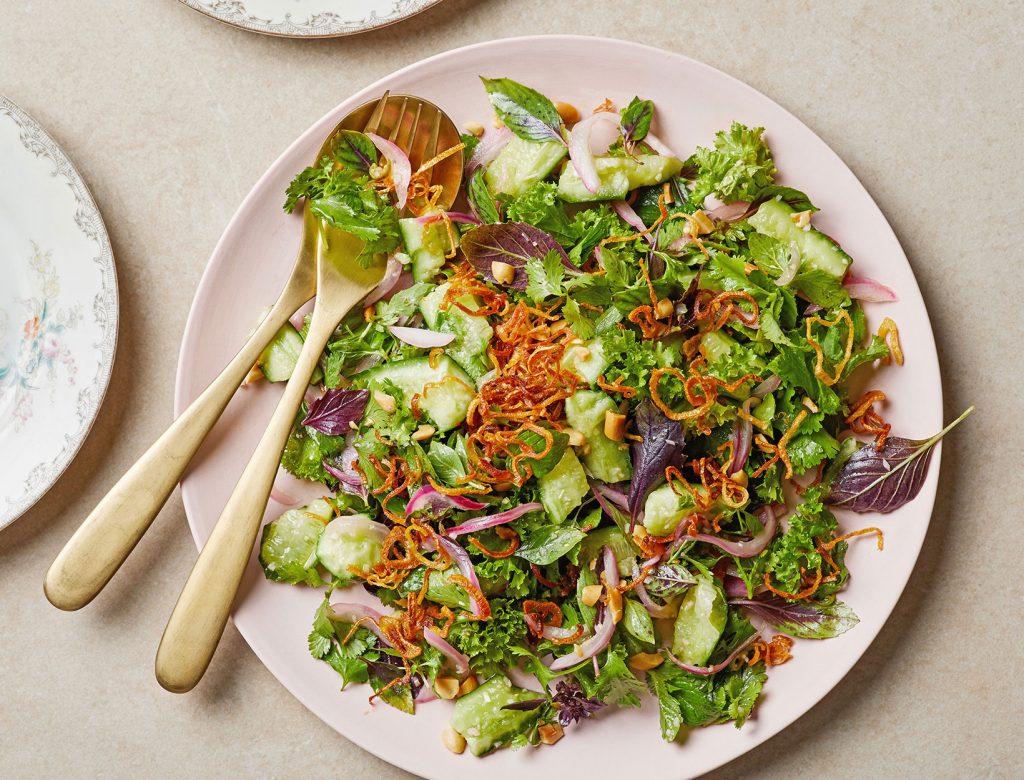 Thai Cucumber Herb Salad 
This salad hits all the notes—tangy pickled onions; crispy, salty fried shallots; cool cucumbers; bright, tender herbs; crunchy, fatty peanuts; spicy greens; and a super citrusy dressing. It's perfect served alongside a simple protein, like grilled fish, with a side of coconut rice, but we would happily have it on its own for a killer salad lunch. 
For the dressing: 
1-inch piece lemongrass, very finely diced 
1 Thai chili, sliced in half lengthwise
2 kaffir lime leaves
4 limes, juiced (about ¼ cup) 
3 tablespoons grape-seed oil
2 cloves garlic, grated 
 
For the salad: 
½ cup rice wine vinegar 
½ red onion, thinly sliced 
¾ cup grape-seed oil 
4 shallots, thinly sliced 
4 sprigs Thai basil, leaves picked
4 sprigs mint, leaves picked
1 bunch cilantro, leaves picked
2 cups mustard greens or spicy lettuce mix 
4 Persian cucumbers, smashed (either with your hand or with a rolling
pin) and torn into 1- to 2-inch pieces
¼ cup roughly chopped roasted salted peanuts
1. To make the dressing, combine all ingredients in a small bowl and whisk until everything is well incorporated. Let sit for about 10 minutes with the whole chili and lime leaves, but remove before tossing the salad together. 
 
2. To make the pickled onions, combine the rice wine vinegar and thinly sliced onions in a small bowl and let sit for 10 minutes. 
 
3. To make the crispy shallots, combine thinly sliced shallots and grape-seed oil in a small saucepan. Bring the mixture up to a simmer over medium heat, then reduce heat to maintain a steady simmer and cook for 5 to 7 minutes, or until lightly brown. Remove the shallots with a slotted spoon and transfer to a paper-towel-lined plate (don't worry if they don't feel crispy—they will crisp up as they cool) and season immediately with a pinch of salt. 
 
4. Make the salad: In a large bowl, combine the Thai basil, mint, cilantro, mustard greens, cucumbers, pickled onions, and dressing. Toss until everything is well incorporated. Finish with crispy shallots, peanuts, and pinch of flaky sea salt.
 
Originally featured in 4 Fresh Salads That Are Stand-Alone Stars