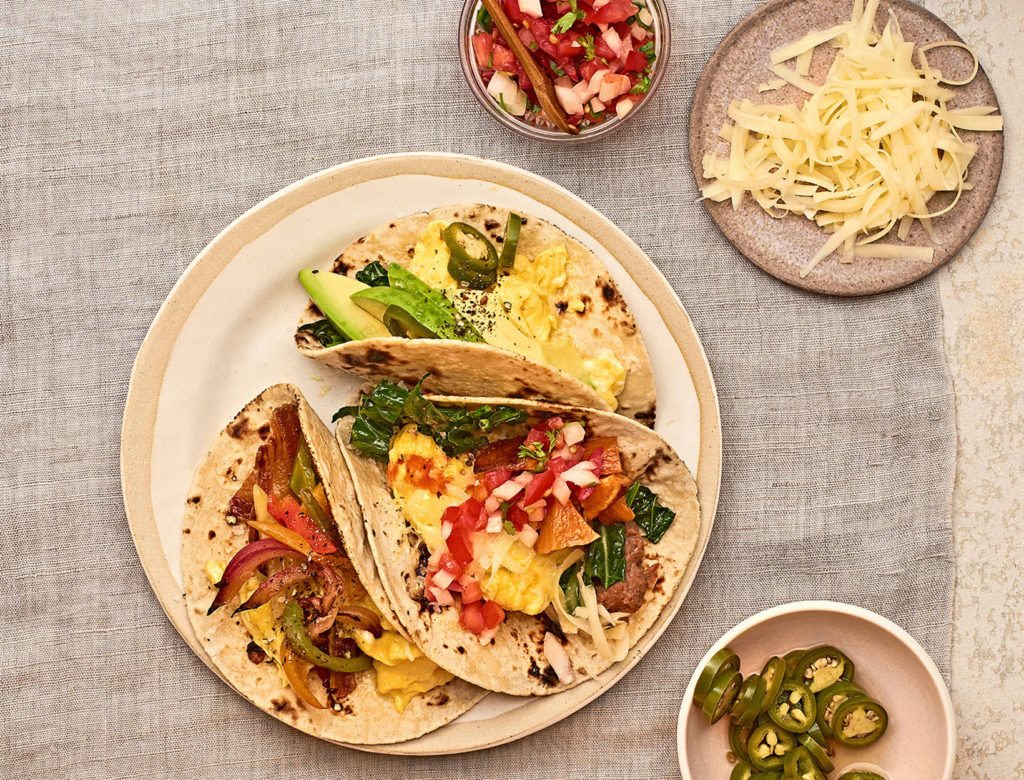 Tex-Mex Breakfast Taco Bar
The breakfast taco bar is the ultimate choose-your-own-adventure meal. It's great when you're hosting a bunch of people who all have different tastes and dietary needs (we've included alternative ingredient suggestions). There are a lot of components here, but you can cherry-pick your favorite fixings if you don't want to go all out. Many of these ingredients come ready-made at the grocery store (tortillas, organic refried beans, salsas), and the rest is pretty easy to prep (roasted sweet potatoes, sautéed peppers and onions, scrambled eggs).
1. Preheat the oven to 425°F. Toss the sweet potatoes with a couple glugs of olive oil and season with a generous pinch of salt. Spread them out on a baking sheet and bake for 20 minutes, tossing them halfway through. While they bake, toss the kale with a little more olive oil and salt and add it to the sweet potatoes at the 20-minute mark. Let cook together for about 10 more minutes. The sweet potatoes should be cooked through and nicely browned and the kale should be gently wilted and somewhat crispy throughout. Remove from the oven and set aside.
2. While the veggies are roasting, sauté the peppers and onion. Heat a few tablespoons of olive oil in a large skillet over medium-high heat and add the peppers and onion. Season with a pinch of salt and let cook for about 7 to 10 minutes, not stirring too often (leaving them be will allow them to brown a bit).
3. To cook the bacon, lay the strips on an oven-safe wire rack set inside a parchment-lined baking sheet and cook in a 425°F oven for about 20 minutes.
4. To heat the beans, simply add them to a small saucepan, stir, and let simmer over medium heat. Add a little water if they seem too thick.
5. Next arrange your fixings. Scrambling the eggs goes fast and should be done right before serving, so take this minute to set out the avocados, cheese, salsas, yogurt, cilantro, hot sauce, and pickled jalapeños.
6. Finally, scramble the eggs. Add the eggs to a large bowl along with a generous pinch of salt and pepper and beat with a whisk until fluffy and well combined. Then heat a couple tablespoons of olive oil over medium-low heat in a large nonstick skillet. Add the beaten eggs and cook, stirring often, until just set. Immediately remove from the heat and serve with the tortillas and all the fixings.