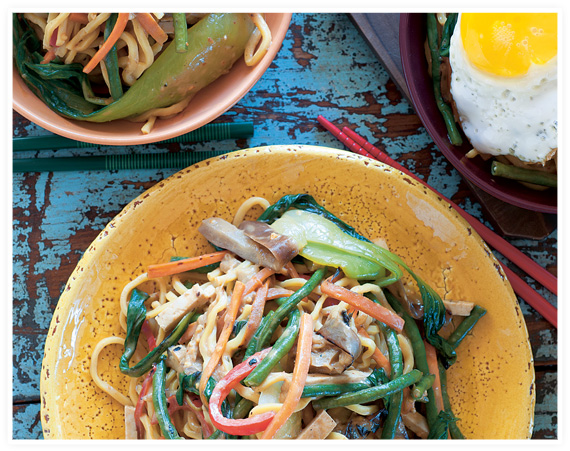 Tek-Tek Noodles with Chopped Peanut Sauce
We goop'd street food, and requested recipes from some of our favorite joints. This Tek Tek Noodle dish is from Susan Feniger of Border Grill fame who opened STREET in 2009, a restaurant incorporating street food flavors from around the world into each of the dishes served.
1. Bring a large pot of water to a boil, and season it with 1 tablespoon of the salt. (The general rule of thumb for cooking noodles is to use 4 quarts of water for every pound of noodles.) Add the noodles and cook, stirring occasionally, for 2 minutes. Drain in a colander.
2. Heat 2 tablespoons of the oil in a large skillet set over medium-high heat. Add the eggplants and ½ teaspoon of the salt, and cook for 1 to 2 minutes, until slightly golden. Then add carrot, long beans, bell pepper, ½ teaspoon salt and cook for 2 minutes. Add the bok choy and the remaining 1/2 teaspoon of salt and cook for 3 to 4 minutes. All the vegetables should be cooked through, but not overly soft. Transfer the vegetables to a bowl, and add the tofu.
3. Return the same skillet to the stove over medium-high heat, and make sure it gets hot before proceeding. Add 2 tablespoons oil and then, working very quickly and stirring continuously, add the noodles, the orange juice, then half the tek-tek sauce, and then the vegetable-tofu mixture. This entire process will take only 2-3 minutes. Turn off the heat and stir in the remaining tek-tek sauce.
4. Heat a nonstick skillet over low heat. Pour the reaming 2 tablespoons oil into the skillet and swirl to coat the pan. Crack the eggs into the pan and let them sit and slowly cook for 4 to 5 minutes. The oil should not crackle and the eggs should cook slowly. It will take a little longer, but the end result will be eggs that have a tender white and a perfectly soft yellow yolk.
5. Divid the noodles between 4 bowls and top each with a fried egg.
Originally featured in Recipes From Susan Feniger's Street