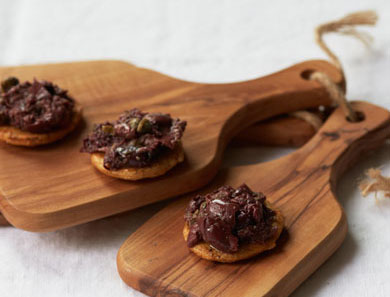 Tapenade on Rice Cracker
Smashed olives, capers and anchovies spread on a rice cracker is a great gluten-free snack to hold you over until lunch or dinner.
9 oz (1 jar) black olives pitted (preferably Kalamata)
1 tablespoon capers
1 clove garlic
3 anchovies (optional)
2-4 tablespoons olive oil
squeeze of lemon
salt & pepper
small round, plain rice crackers (or any rice cracker you like)
1. Smash olives, capers, garlic and anchovies with pestle and mortar.
2. Slowly drizzle in olive oil while mixing until a paste forms.
3. Season with salt, pepper and lemon.
4. Spread on rice crackers or use as dip.
Originally featured in Small Bites