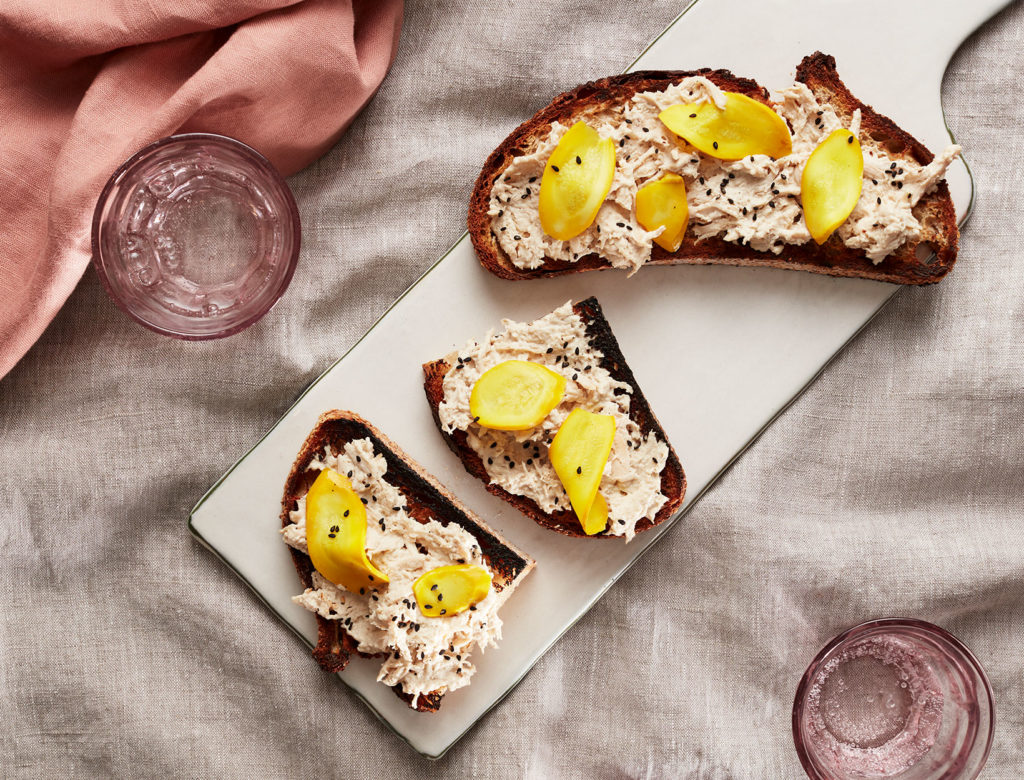 Chicken salad is a classic way to use up leftovers, but this version forgoes the typical mayonnaise or yogurt base. Creamy tahini adds nuttiness and is super savory. The trick is to pair that rich sauce with a bright and tangy pickled vegetable to balance it out. We love it on crusty bread with pickled green tomatoes, and it's just as good on crackers with pickled shallots or in lettuce cups with pickled turnips.
1. Combine the water and tahini in a medium-size mixing bowl and whisk constantly for a few minutes. The mixture might seize up and separate, but just keep whisking—it will become light and fluffy. Once it has a nice smooth consistency, add the lemon juice, grated garlic, and a pinch of salt. Taste and adjust for seasoning. If it still seems too thick or stiff, slowly add a little water, a teaspoon at a time until you're happy with it (you're going for a yogurt- or mayonnaise-like consistency).
2. Gently fold in the shredded chicken, stirring well to make sure it's fully combined and all the chicken is evenly coated. Top with sesame seeds and serve on toasted bread, on crackers, or in a lettuce cup with some pickled veggies.
Originally featured in Three Different Meals You Can Make from One Roast Chicken