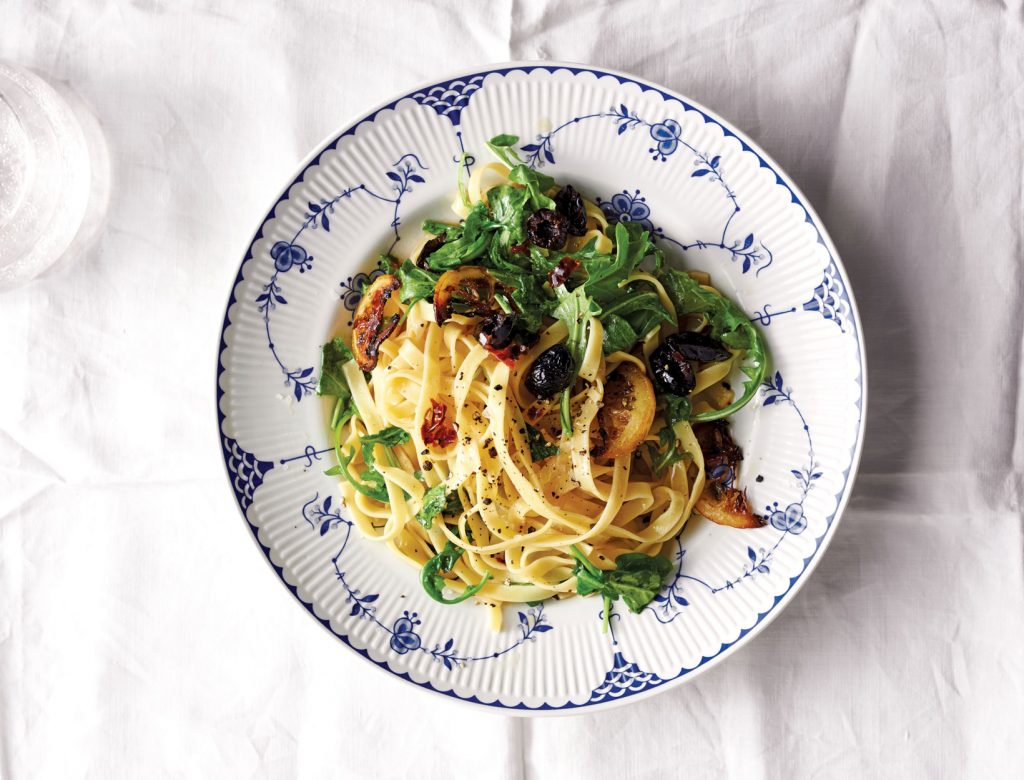 Tagliatelle with Olives
Salty, spicy, peppery, and just the right amount bitter, this pasta is crazy good. Yes, the caramelized lemons take a bit of prep, but don't skip them—they make the dish!
for the caramelized lemons:
1 lemon, thinly sliced into rounds, seeds removed
1 tablespoon olive oil
½ teaspoon kosher salt
for the pasta:
¾ pound tagliatelle
¼ cup olive oil
2 cloves garlic, thinly sliced
1 teaspoon red pepper flakes
1 cup oil-cured black olives, pitted and roughly chopped
10 ounces baby arugula
¼ cup grated pecorino romano cheese, plus more for serving
kosher salt and freshly ground black pepper to taste
1. Make the carmelized lemons: Preheat the oven to 325°F. Line a baking sheet with parchment paper.
2. Bring a medium saucepan of water to a boil. Add the lemon slices and cook for 2 minutes. Drain and pat dry.
3. Toss the lemons gently with the olive oil and salt. Arrange the lemons in a single layer on the lined baking sheet. Roast until they begin to brown around the edges, about 25 minutes. Remove from the oven and set the carmelized lemons aside.
4. Meanwhile, make the pasta: Bring a large pot of water to a boil and cook the pasta to al dente according to the package directions. Reserve 1 cup of the cooking water before draining.
5. While the pasta cooks, prepare the sauce: Heat the oil in a 12-inch skillet over medium heat. Add the garlic and red pepper flakes and cook until the garlic is pale golden, about 2 minutes. Add the olives and cook for 1 minute more.
6. Add the drained pasta to the skillet along with the arugula and pecorino romano. Stir in ½ cup of the reserved cooking water and toss until the arugula wilts, adding more water, ¼ cup at a time, if needed to loosen up the sauce. Season with salt and pepper.
7. To serve, top with the caramelized lemons. Pass pecorino romano at the table (if desired).
Reprinted from Back Pocket Pasta. Copyright © 2017 by Colu Henry. Photographs copyright © 2017 by Peden + Munk. Published by Clarkson Potter/Publishers, an imprint of Penguin Random House LLC.
Originally featured in goop Cookbook Club: Back Pocket Pasta