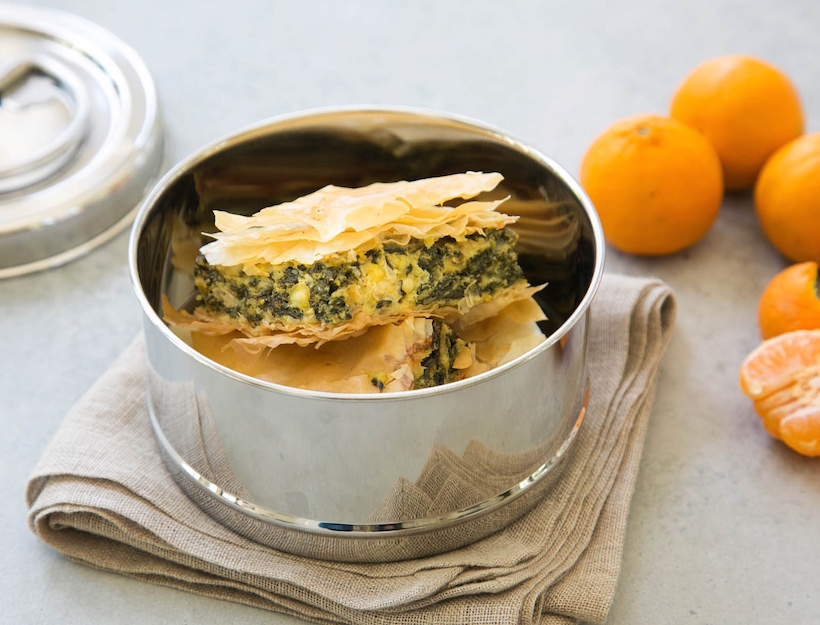 Swiss Chard Spanakopita Pie
Spanakopita is a Greek dish traditionally made with spinach, but Mario mixes it up with swiss chard. Look for phyllo dough in the frozen aisle next to pie dough and puff pastry—it will need to be defrosted (ideally overnight in the fridge).
3 tablespoons olive oil
2 small onions, cut into 1/8 inch dice
3 garlic cloves, smashed
3 pounds swiss chard, washed and spun dry, leaves cut into 1-inch ribbons, stems chopped
1 teaspoon freshly grated nutmeg
½ cup freshly grated Pecorino Romano
½ cup panko breadcrumbs
8 ounces feta, crumbled
½ cup pine nuts
salt & pepper
6 large eggs
6 sheets from 1 package phyllo dough, defrosted, unrolled, and held on a baking sheet under a damp towel
8 tablespoons (1/2 cup) unsalted butter, melted
1. Preheat the oven to 375 degrees. You will need a 9×13-inch brownie pan or baking dish.
2. Heat a dutch oven over medium heat.
3. Add the olive oil, onions, and garlic and sauté until soft and golden brown, about 10 minutes. Add the chard, stir to combine, cover with a lid, and cook until tender, about 15 minutes. Be sure to check the pot every five minutes and stir to get the raw chard on the top down to the bottom. Drain in a colander and let cool.
4. Place the cooked chard in a large bowl and add the nutmeg, pecorino, breadcrumbs, feta, and pine nuts. Mix well, and season with salt and pepper to taste.
5. Crack the eggs into a separate bowl, whisk, then add to the chard mixture and stir gently until fully combined.
6. Separate six sheets of the phyllo from the pile and place on a work surface. Fold each sheet in half to create a 9×13-inch double-thick sheet (most phyllo is sold in 18×13-inch pieces).
7. Brush some melted butter on the bottom of your 9×13-inch brownie pan, layer in one folded sheet of phyllo, and brush the top of the doubled sheet with melted butter. Repeat this with two more doubled sheets (for a total of three sheets).
8. Spoon the chard filling over this layer of phyllo, then cover with three more doubled sheets, buttering the top of each as you go. Score the top three sheets with a sharp knife to create nice diamond shapes.
9. Bake for 45 to 50 minutes, until the top is golden brown, then remove and let rest for 15 minutes.
1o. Cut the spanakopita into 2-inch squares and serve.
Originally featured in Lunchbox Ideas From Our Favorite Chef Dads