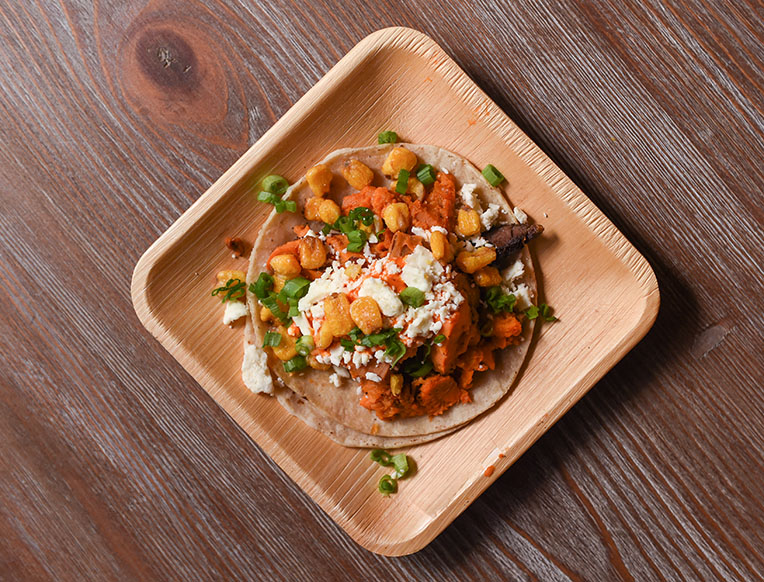 Sweet Potato Tacos
Based on a comfort dish he cherished as a young kid, sweet potato tacos are a staple at Wes Avila's truck. The contrast of warm, soft potatoes with fresh, tart feta and crunchy corn nuts makes for flavor that's complex but still feels like comfort food. We love how you can feel Wes's passion for the dish even in his ingredient list.
for the tacos:
3 pounds sweet potatoes, rinsed (Japanese sweet potatoes are best, the long and thin kind with the red skin)
kosher salt (Diamond Crystal, or fleur de sel or Maldon if you have it)
high-fat unsalted butter (I use Buerre de Baratte if I can, or Plugra)
several sprigs of fresh thyme
corn tortillas (try to get a local brand of tortillas, but please, NEVER use Guerrero brand, it's the anti-Christ of tortillas)
¼ pound French feta cheese (Valbreso if you can find it)
1 cup fried corn or corn nuts
1 bunch scallions or green onions, rinsed and sliced about ⅛th inch thick (just the green parts, reserve the white of the onions for something else)
for the salsa:
lard or canola oil
1 cup dried chiles de árbol, de-stemmed
6 cloves of fresh garlic, whole
1 pound tomatillos, de-sleeved and rinsed
¼ pound roasted red bell peppers (jarred from the store is okay, OR roast your own red peppers)
3 tablespoons slivered almonds
3 tablespoons olive oil
1 habañero pepper (use half if you don't like your salsa too spicy)
4 tablespoons red wine vinegar
salt, to taste
1. Rinse the potatoes, leaving the skins on—you'll want that texture in the final taco. Place the potatoes in a saucepan and cover them with cold water. Salt the water until it's salty as the sea and turn up the heat. You don't want a rapid boil because you want the skin to maintain its texture. Simmer the potatoes until they're just cooked—when you can stick a knife into one and it comes out clean—about 12 minutes. Strain out the water and set the potatoes aside. When they're cool enough to handle, slice them into ¾-inch coins and set aside. You'll be reheating them in the pan later.
2. While the potatoes are simmering, start making the salsa. Set a cast-iron pan to medium-low heat. When the pan is hot, add a tablespoon of lard or canola. When your oil is melted, add the dried, de-stemmed chiles de árbol. When the chiles are browned all over and smelling toasty, add the garlic. Don't burn the garlic! Burnt garlic is the worst. When it's slightly translucent, add the tomatillos, bell peppers, and almonds to the pan, and enough water for the veggies to steam and cook. Hit it with some salt. Cook until the tomatillos are mushy—they should split easily and break apart when you push them with a spoon. Take the pan off the heat and slide all the ingredients to a blender. Add 3 tablespoons olive oil and the habañero—half of it if you don't want it too spicy, or, if you don't mind a little heat and don't have any plans for the other half, just throw in the whole pepper. Blend until the salsa is nice and smooth, and season to taste with red wine vinegar and salt. You want a little acidity, plus the sweetness from the bell peppers and heat from the habanero and chiles de árbol.
3. Get a pan on medium-high heat and add a few tablespoons butter until it's melty and bubbling, but not burning. Working in batches, add layers of potatoes to the pan—you want both sides of each potato slice to get a little browned, but not tough or crispy. Add a couple sprigs of thyme to the pan and cook the potatoes until golden brown. Flip them and brown the other side. Set the browned potatoes aside on a plate and try to keep them warm.
4. Heat up your tortillas on a comal with butter. You can use the same pan you used to brown the potatoes. Keep the heat on medium-high and rub in a little more butter. Set the tortillas down on the plancha in stacks of two—two tortillas per taco. Ballpark 35 seconds a side, so they're slightly cooked and seasoned with the butter. When the two tortillas are steamed and sticking together from the inside, you're done.
5. Plate your tacos. On top of two tortillas, add, in this order: 3-4 slices of potato, a tablespoon of salsa, a tablespoon of feta, ½ tablespoon fried corn, and a sprinkle of scallions.
Originally featured in The Los Angeles Food Truck Guide