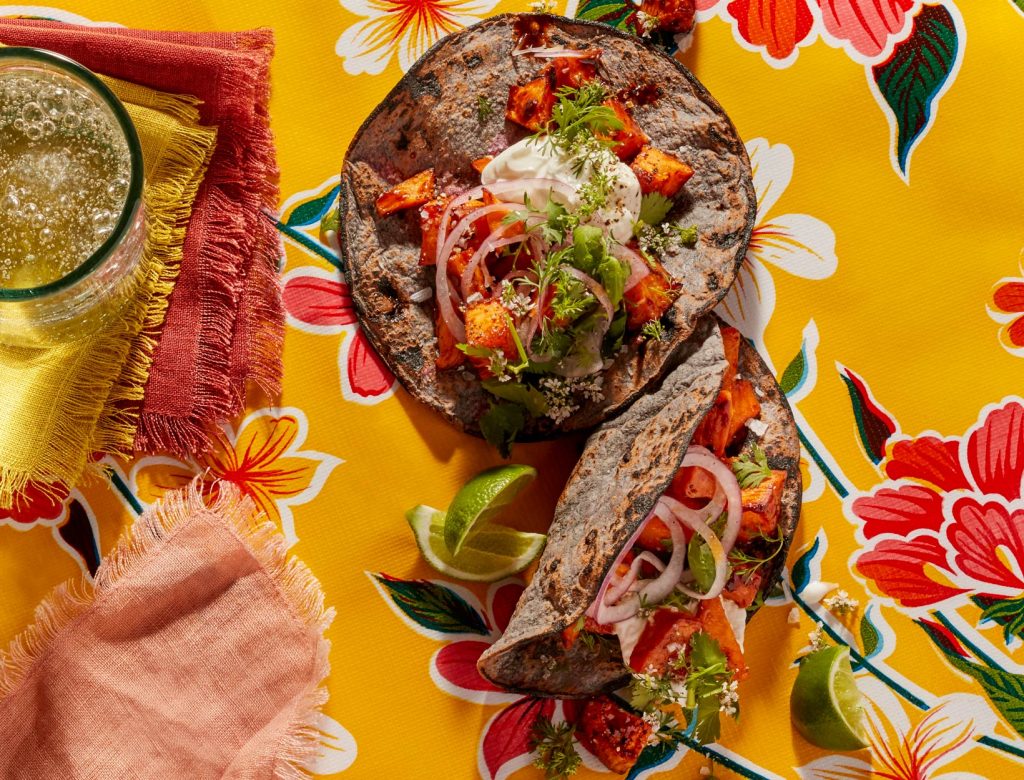 Smoky and Spicy Sweet Potato Tacos
We were inspired by a smoky, sweet, and complex salsa negra we recently tried at a restaurant and came up with our own cheat's version. The heat of the chipotle chilies goes perfectly with the rich molasses and sweet-and-starchy sweet potato. And it comes together so fast, if you keep chipotle chilies and molasses on hand, it'll become your default no-time-to-cook dinner, no matter what day of the week it is.
1. Preheat the oven to 450°F. Toss the sweet potato cubes in olive oil and spread them out on a parchment-lined baking sheet. Roast for 25 minutes.
2. While the potatoes roast, combine the chipotle pepper, molasses, garlic, cumin, and olive oil in a blender and blitz until smooth. Once the sweet potatoes are out of the oven, toss them in the chipotle molasses sauce and roast for another 3 minutes, just until caramelized—watch them carefully to make sure the molasses doesn't burn.
3. In a small dish, combine the lime juice and Greek yogurt.
4. To assemble, first warm the blue corn tortillas in a hot cast-iron pan. A minute or so on each side should do it. Then add the chipotle-molasses sweet potatoes and top with the red onion and a bit of the lime yogurt.