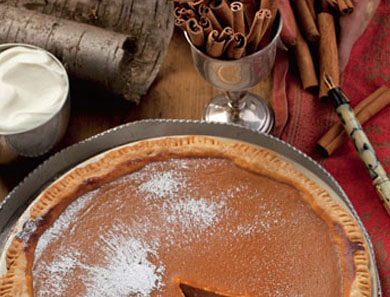 Sweet Potato Pie
This dessert screams fall. A simple, wonderful, and classic holiday pie from posh farmers the Beekman Boys.
basic pie dough (can be store-bought to save time)
1 cup packed light brown sugar
2 tablespoons all-purpose flour
½ teaspoon ground cinnamon
¼ teaspoon grated nutmeg
¼ teaspoon salt
½ cup milk
½ cup sour cream
3 large eggs
1 large egg yolk
1 teaspoon pure vanilla extract
2 cups puréed cooked sweet potatoes (about 1 to 4 pounds)
3 tablespoons unsalted butter
1. On a lightly floured work surface, roll out the dough to a 12-inch round. Roll the dough around the rolling pin, and then fit it into a 9-inch deep-dish pie plate without stretching it. Press the dough into the bottom and sides of the pan. With a pair of scissors or a paring knife, trim the edges of the dough to form a 1-inch overhang. Fold the overhang over to form a high edge, and with your fingers, crimp the dough all around. Refrigerate.
2. Preheat the oven to 350°F. In a large bowl, whisk together the brown sugar, flour, cinnamon, nutmeg, and salt until well combined. Whisk in the milk, sour cream, whole eggs, egg yolk, and vanilla. Whisk in the mashed sweet potatoes.
3. In a small saucepan, melt the butter over medium heat. Cook until the butter foams, then continue cooking until the foam subsides and the butter turns a rich brown. Immediately pour the browned butter into the sweet potato mixture and whisk until incorporated.
4. Place the pie plate on a rimmed baking sheet and pour the mixture into it. Bake for 1 hour, or until the pie is set with a slightly wobbly center. Cool on a rack. Serve at room temperature or chilled.
Variation: Swap in 2 cups of puréed pumpkin, butternut, or kabocha squash for the sweet potato. Add the grated zest of 1 orange to the puree along with ½ teaspoon ground cardamom.
From The Beekman 1802 Heirloom Cookbook by Dr. Brent Ridge, Josh Kilmer-Purcell and Sandy Gluck.
Originally featured in The Thanksgiving Lowdown