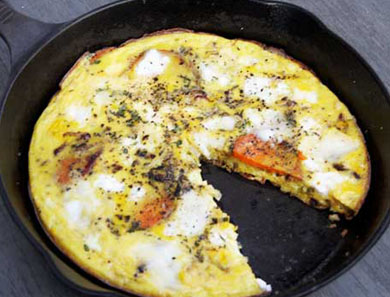 Sweet Potato & Goat Cheese Frittata
This savory combination of sweet potatoes, shallots, thyme and goat cheese is perfect for wintertime. A great breakfast dish for a crowd.
1. Preheat the oven to 375º F.
2. Steam the sweet potato until barely tender, about 15 minutes.
3. Cut the sweet potato into thin rounds – you should have about 12 slices.
4. Heat the butter and olive oil over medium heat in a 10″ cast iron skillet. Sauté the shallots and the tablespoon of thyme for about 6 minutes or until soft and just barely browned.
5. Push shallots to the side of the pan and add the sweet potato slices. Let them brown on both sides, about 2 minutes per side. Season with plenty of salt and freshly ground pepper.
6. Meanwhile, beat the eggs and milk in a mixing bowl.
7. Remove half of the sweet potato and shallot mixture to a plate. Add half the egg mixture to the pan and distribute the reserved sweet potatoes and shallots over them. Add the remaining egg mixture.
8. Dot the top with the goat cheese, the pinch of thyme and a nice grind or two of black pepper. Let it cook for about 5 minutes on the stovetop or until just set on the edges (it will still be very runny in the middle).
9. Stick it in the oven for exactly 8 minutes; it should be just set throughout.
Originally featured in Holiday Recipes