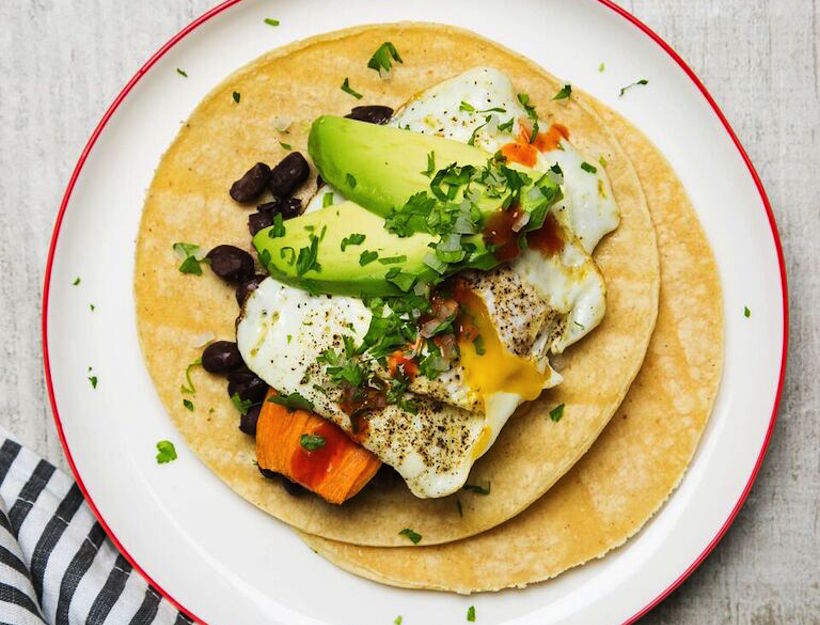 These satisfying veggie tacos are perfect for breakfast, lunch, or dinner.
1. Preheat the oven to 400°F. Peel the sweet potato, cut into four equal wedges, and toss with salt, olive oil, chili powder, and cumin. Place on a baking sheet and roast for 20 minutes, or until tender when pierced with a knife.
2. Meanwhile, combine black beans in a small saucepan with smashed garlic, a couple tablespoons of water, and a generous pinch of salt. Bring the beans up to a simmer over medium heat and cook gently for about 15 minutes. Remove the garlic clove.
3. When the sweet potato is cooked and the beans are warm, heat a large non-stick sauté pan over medium heat. Add four tablespoons olive oil and crack the four eggs directly into the pan. Season generously with salt and pepper, and cook for two minutes, or until whites are almost set and yolks are still very runny. Use a spatula to carefully flip the eggs and cook for another 30 seconds to one minute, depending how runny you like your yolks.
4. Heat eight tortillas in the oven just until warm, and divide them into four sets of two. Top each with a piece of sweet potato, using a fork to crush and flatten it slightly. Divide the black beans over the sweet potato, and finish each with an over-easy egg. Top with sliced avocado, diced onion, cilantro, and jalapeno, and serve with lime wedges and hot sauce on the side.
Originally featured in Meatless Monday: Sweet Potato & Egg Tacos