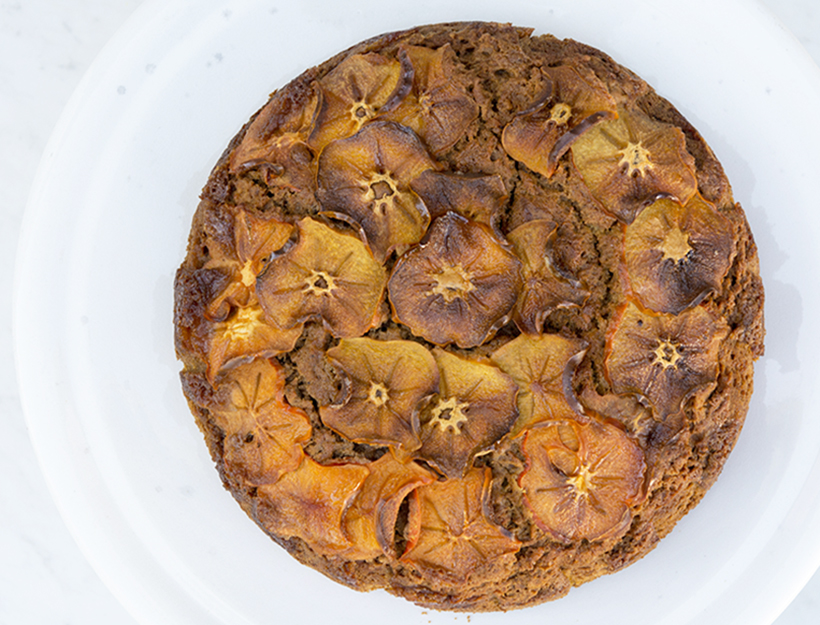 Impossibly tender and just the right amount sweet, this quick bread makes the perfect finale to any holiday meal. It's also excellent for breakfast the next day.
1. Preheat the oven to 335°F and oil a 9-inch springform pan.
2. Peel the sweet potatoes and cut into 1-inch chunks. Cook in a pot of boiling water until very tender, then drain and set aside to cool.
3. In a medium bowl, whisk together the oil, the ¾ cup maple syrup, salt and vanilla extract, then whisk in the eggs. Add the cooked sweet potatoes, whisking vigorously to incorporate them into the mixture. Add the flour, cinnamon, black pepper, nutmeg and baking soda and whisk until just combined.
4. Using a mandolin or a sharp knife, slice the persimmon into ¼-inch slices.
5. Pour the batter into the prepared pan and top with persimmon slices and brush with the remaining tablespoon of maple syrup.
6. Place in the preheated oven and cook for 60-65 minutes, or until a toothpick inserted into the center comes out clean.
Originally featured in 4 Gluten- and Dairy-Free Desserts That Taste Better Than the Real Thing