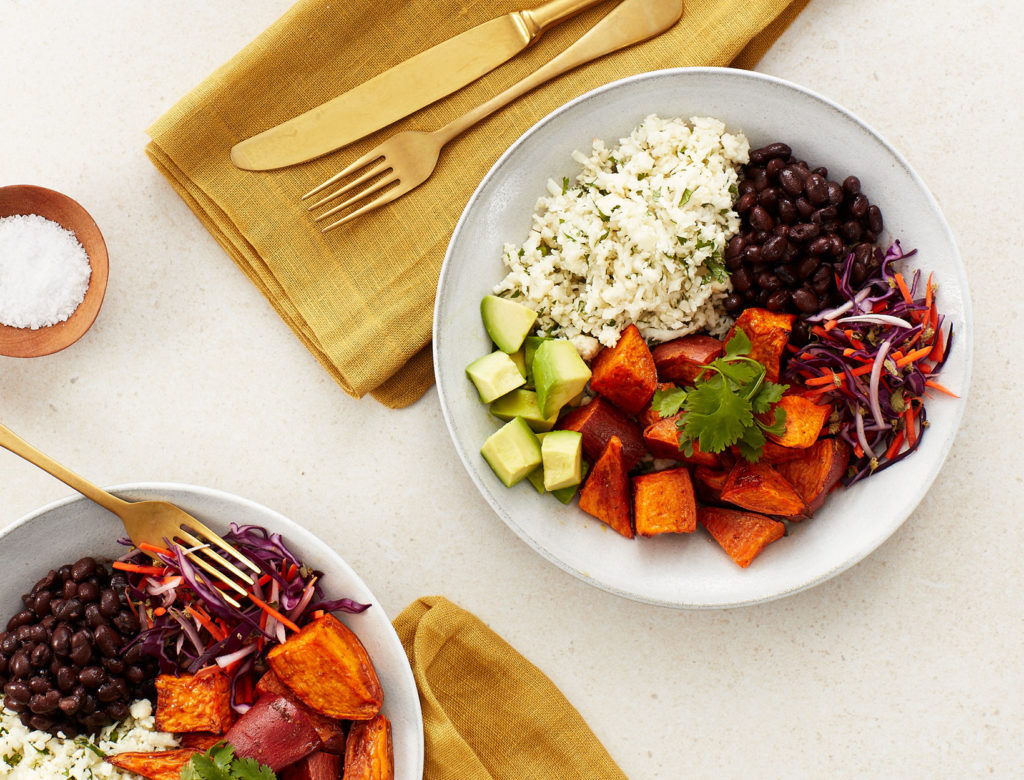 Sweet Potato Bowls with Cilantro-Lime Cauli Rice and Quick-Pickled Slaw
A sweet potato–black bean–cauli rice bowl might not be a revelation, but it always hits the spot. One new thing we've added to this bowl is quick-pickled slaw inspired by Salvadorian curtido, which is typically served as the fresh acidic foil to rich savory pupusas. The combination of vinegar, cabbage, onion, and oregano is next-level.
1. First make the quick-pickled slaw. Combine all the ingredients with a generous pinch of salt and let set out a room temperature for 15 minutes or so, so the cabbage can soften and release some of it juices. Give it another toss then press it into a jar so that the slaw sits below the juices. Seal with an airtight lid and let sit at room temperature overnight to lightly ferment, then move to the fridge for few days for a slower, controlled ferment. (You can skip leaving it out overnight and keep it in the fridge the whole time if you prefer; you'll just get a milder flavor.)
2. Preheat the oven to 425°F. Toss the sweet potatoes with a few glugs of avocado oil, a pinch of salt, and the cumin. Scatter them on a sheet pan and cook for 20 to 25 minutes until crispy and brown on the outside and tender in the middle.
3. Heat a small saucepan over medium heat and add a bit of avocado oil. Once warm, add the crushed garlic cloves and let them cook for about 2 minutes, until fragrant. Before they start to brown, add the beans and a pinch of salt and cook for about 15 minutes until heated through.
4. Next, heat a frying pan over high heat. Add a bit of avocado oil and the cauliflower rice. Stir it frequently and pull it from the heat when it's just al dente. Fold in the cilantro, along with a pinch of salt and the lime juice.
5. To assemble the bowls, start with a base of cilantro-lime cauli rice, then add some beans, roasted sweet potatoes, avocado, and quick-pickled cabbage slaw.
Originally featured in The Annual New Year Detox