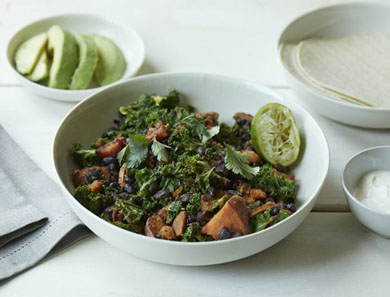 Sweet Potato, Black Bean & Kale Skillet
Cooked stovetop in one pan with aromatics, we top with a few slices of avocado and lime and serve with warm tortillas for an excellent vegan one-pan entrée.
1. Cut sweet potatoes in half lengthwise. Lay cut surface flat on a cutting board and slice in half again lengthwise. Then, slice into ¼ inch thick pieces.
2. Place large sauté pan over medium high heat and drizzle with olive oil. Add sweet potatoes, sumac and cumin to pan and cook for a minute until they begin to brown, stirring throughout to coat (if you wait to add salt and pepper, the potatoes will brown up a little better). Cover after a minute, bring the heat down to medium and let cook for about 5-8 minutes, stirring once or twice, until they've softened up.
3. Add black beans. Stir to mix. Add kale, season with salt and pepper, mix and cover. Let cook for 2-3 minutes, uncover and stir. (If it's feeling a bit too dry at this point, drizzle a little more olive oil.) Cook for another minute or so until kale is cooked to your liking.
4. Drizzle with lime and serve with avocado slices, cilantro, warm tortillas and sour cream if desired.
Originally featured in One Pan Meals