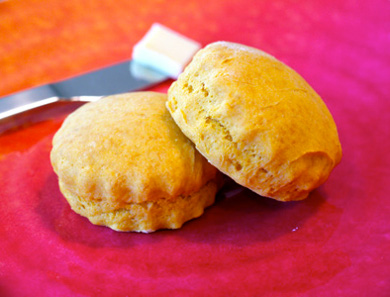 These sweet potato biscuits are a delightful combination of sweet and savory, airy and satisfying. Perfect for a holiday dinner or a fall brunch.
1. Preheat oven to 400 F.
2. Place the first 4 ingredients in a food processor and pulse to combine.
3. Add butter and pulse till it resembles coarse meal.
4. Add sweet potatoes, milk and honey and pulse till dough comes together.
5. Place dough onto parchment paper and knead 5 times together and shape into a flat disk.
6. Place another parchment paper on top and roll out 1/2 to 3/4 inch thick and cut into biscuits.
7. Place biscuits on a silpat or parchment lined baking sheet coated with cooking spray.
8. Bake for 15 minutes or until lightly golden.
9. Cool and serve.
Contributed by weelicious.
Originally featured in Weelicious Thanksgiving