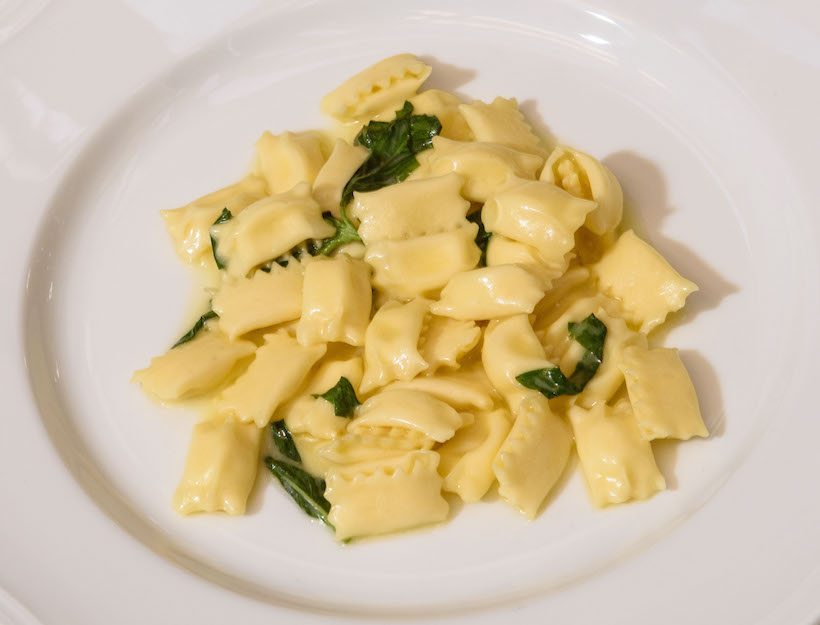 Sweet Corn Agnolotti with Basil Butter
Fresh pasta isn't the sort of dish one might make regularly at home, but if you have extra corn from the farm stand, it's really worth the effort. Make a big batch on a lazy weekend and freeze in batches (pasta can stay in an air-tight container dusted with semolina for three weeks)—that way you can enjoy these morsels of summer flavor well into the fall.
1. Bring 6 quarts of water to a boil and add about 2 tablespoons salt.
2. Steam the corn until the kernels are bright yellow but still firm, about ten minutes. Remove the corn kernels from the cob and allow to cool slightly.
3. In the bowl of a food processor, add corn, ricotta, olive oil, and salt. Pulse until combined, then cool. When the mixture is room temperature, stir in the Grana Padano and Pecorino Romano and season with salt and pepper.
4. To form the agnolotti, drop heaping teaspoons of filling down one side of each pasta sheet at 3-inch intervals. Fold the pasta over the filling, pressing the dough flat between the lumps of filling. Using a pastry cutter, cut half-moons, using the fold as the flat side of the moon.
5. Drop the agnolotti into the boiling water and simmer rapidly until tender.
6. Meanwhile, place a ladleful of pasta water in a 12- to 14-inch sauté pan. Add butter.
7. Drain agnolotti and add to the pan. Toss over medium heat to coat. At the last minute, add fresh basil leaves and mix gently.
8. Plate the pasta, sprinkle with Parmigiano-Reggiano, and serve.
Originally featured in The Kickoff: GP and Mario Host a Dinner