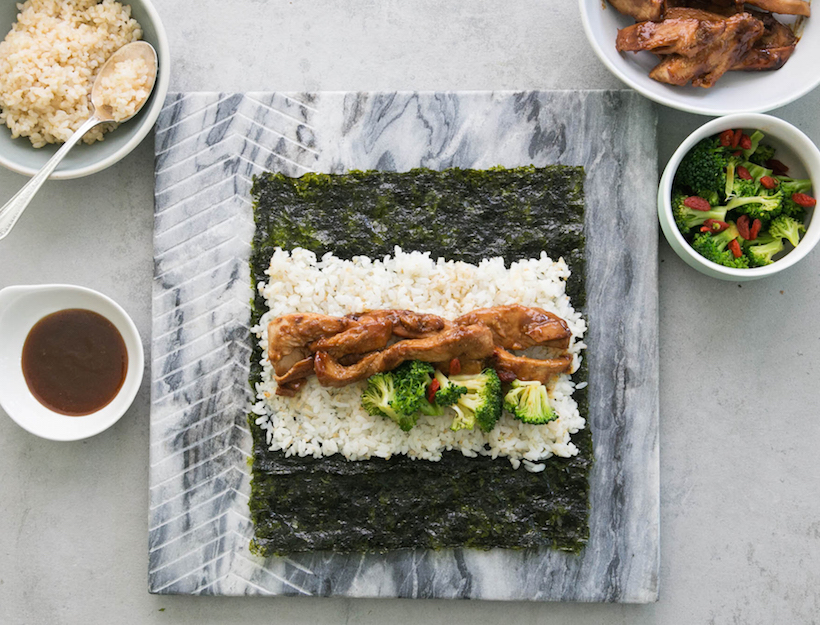 This is an office favorite and a popular to-go lunch for GP. Since the nori gets soggy quickly (at Kye's they have come up with a very clever system to combat this problem), be sure to eat it right away or use romaine instead if you're packing it for lunch. Sucanat stands for "SUcre de CAnne NATurel" and is a minimally processed pure cane sugar with a high percentage of molasses. Look for it at any health food store or Whole Foods. If sucanat is not available, try using three tablespoons of brown sugar instead.
1. Combine the mirin, miso, and sucanat in a saucepan over medium high heat. Cook until sucanat has dissolved and the mixture reaches a boil. Set aside to cool.
2. Combine the sliced chicken and ½ to 1 cup sweet chicken sauce in a sauté pan over medium high heat. Cook until the chicken is warmed through and the sauce is caramelized, about 4 minutes.
3. Meanwhile, cook the broccoli. In a pan, heat the avocado oil over high until it's hot, but not smoking. Add the broccoli and salt, toss to coat in the oil, and sauté for a few minutes. Next, add the water, turn the heat down to medium, and cover the pan with a tight-fitting lid. Cook until tender, stirring every minute or so. Remove the broccoli to a bowl and add goji berries.
4. To assemble, place a nori sheet on a flat surface and spread the rice on top in an even layer. Add chicken, as much extra sauce as desired, and goji broccoli. Roll up into a tight wrap and eat immediately.
Originally featured in DIY Portable Lunch: Kye's Rolls