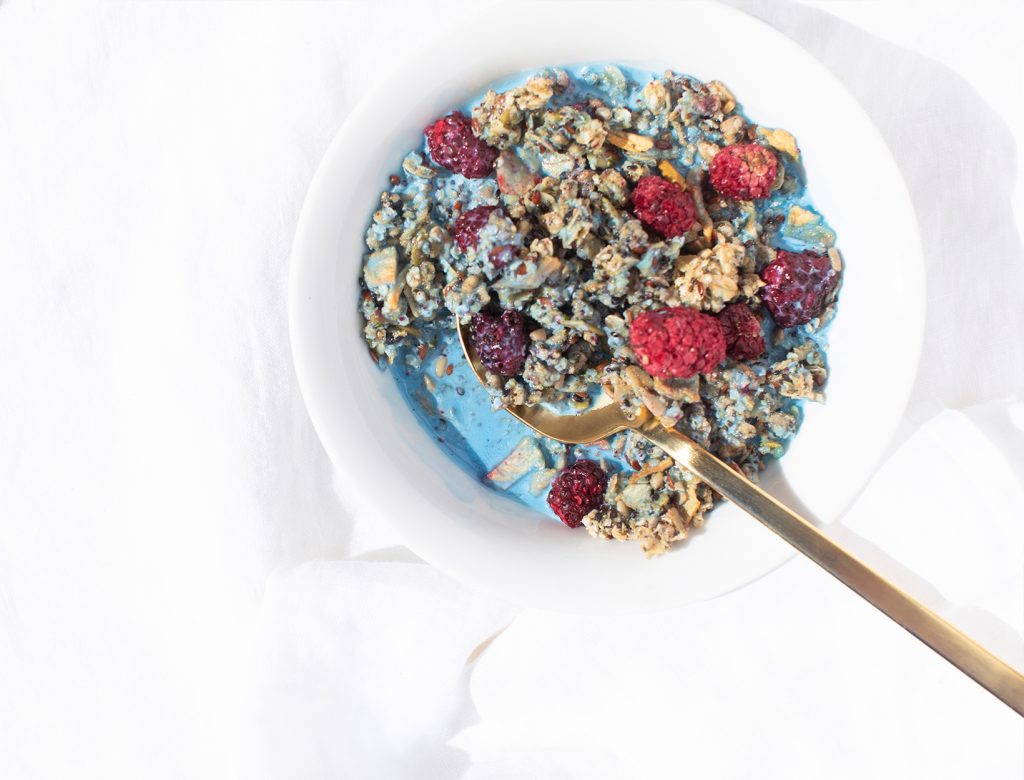 Superseed Muesli with Blue Lavender Mylk
When this electric-blue milk hit Sakara's Instagram, it went viral. People are always a little confused and not sure if it's edible, but once they hear about the health benefits (and how delicious it is), they have to have it. And the cereal's made with the most nutritious seeds on the planet: hemp, flax, pepitas, chia, and quinoa flakes, plus mulberries and freeze-dried blackberries for a sweet, antioxidant finish.
for the Blue Lavender Mylk
3 cups unsweetened nut milk
1 tablespoon plus 2 teaspoons blue-green algae powder (or
spirulina if you don't have blue-green algae on hand)
1 teaspoon dried lavender
2 tablespoons wildflower honey
for the muesli:
2 tablespoons coconut oil
2 tablespoons wildflower honey
1 tablespoon hemp seeds
½ cup gluten-free rolled oats
½ cup quinoa flakes
¼ cup sunflower seeds
1 tablespoon chia seeds
1 tablespoon flaxseeds
1 tablespoon pumpkin seeds
1 tablespoon poppy seeds
1 tablespoon black sesame seeds
½ teaspoon sea buckthorn powder
½ teaspoon vanilla powder or 1 teaspoon pure vanilla extract
½ teaspoon Himalayan salt
½ cup dried apples
1 tablespoon dried blackberries or goji berries
Blue Lavender Mylk or nut milk, to serve
1. First, make the Blue Lavender Mylk. In a medium bowl, whisk together ¾ cup nut milk with the blue-green algae powder. Set aside.
2. Bundle the lavender in a cheesecloth sachet or reusable tea bag.
3. In a small pot, combine the remaining 2¼ cups nut milk with the honey and the lavender sachet. Bring to a gentle simmer over medium-low heat. Remove the pot from the heat and allow to cool to room temperature. Remove the lavender sachet and stir in the blue-green algae powder mixture until well combined. Store leftover mylk in the fridge for up to 5 days.
4. While the mylk cools, preheat the oven to 325°F. Line a rimmed baking sheet with parchment paper and set aside.
5. In a small pot over low heat, melt together the coconut oil and honey. Set aside.
6. In a large bowl, mix all the remaining ingredients (except for the dried fruit). Stir in the coconut-oil-honey mixture until it evenly coats the muesli mixture. Spread the muesli over the prepared baking sheet and bake until golden brown, 15 to 20 minutes, turning the pan halfway through. Let the mixture cool and toss with the dried fruit. Serve with Blue Lavender Mylk or the nut milk of your choice. The muesli can be stored in an airtight container at room temperature for up to 5 days.
From Eat Clean, Play Dirty: Recipes for a Body and Life You Love by the Founders of Sakara Life by Danielle DuBoise and Whitney Tingle, published by Abrams, © 2019. Photographs by Sakara Life.
Originally featured in Sex and the Single Cinnamon Roll