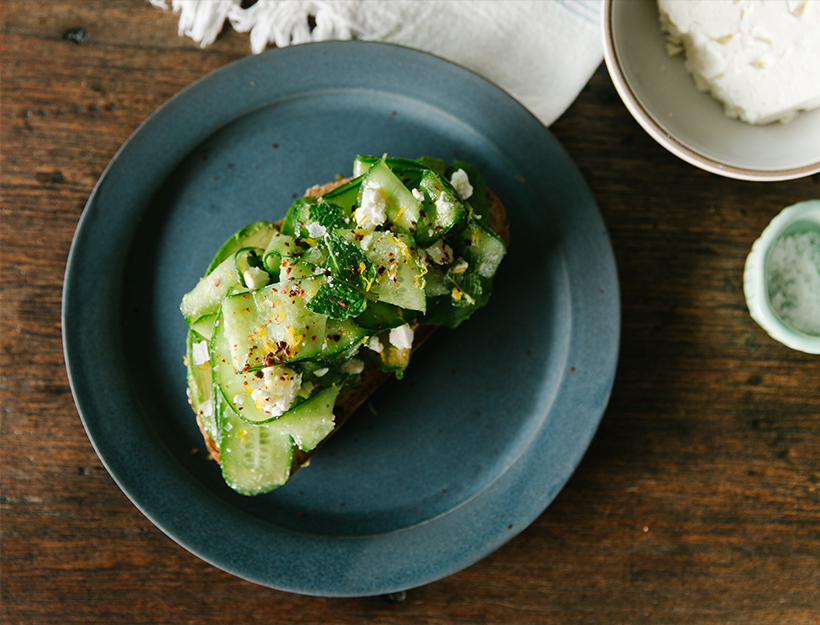 Superpowered Avocado Toast
Avocado toast will always be a diet essential. This version is loaded up with mint, shaved cucumber, lemon, chili, and sea salt; it makes for a perfect snack or meal any time of day.
1 slice country bread
¼-½ avocado, depending on size
1 small Armenian cucumber
¼ teaspoon finely grated Meyer lemon zest
6 fresh mint leaves, roughly torn
1-2 tablespoons crumbled feta, optional
sea salt and pepper to taste
olive oil and lemon juice to taste
marash chili (or your favorite chili) to taste
1. First, toast the bread.
2. While the bread is toasting, use a peeler to shave the cucumber into thin strips. Start on one side and shave until you're about ⅓ of the way through, then flip and shave from the other side (discarding or snacking on the seedy center).
3. Place the shaved cucumber in a bowl with the Meyer lemon zest, torn mint leaves, crumbled feta (if using), and season with salt, pepper, lemon juice, and olive oil to taste.
4. Slice the avocado and arrange it over the toast, then season with a pinch of salt.
5. Top the toast with the shaved cucumber mixture and garnish with a generous pinch of chili.
Originally featured in Great Skin—Inside & Out: Superpowered Avocado Toast