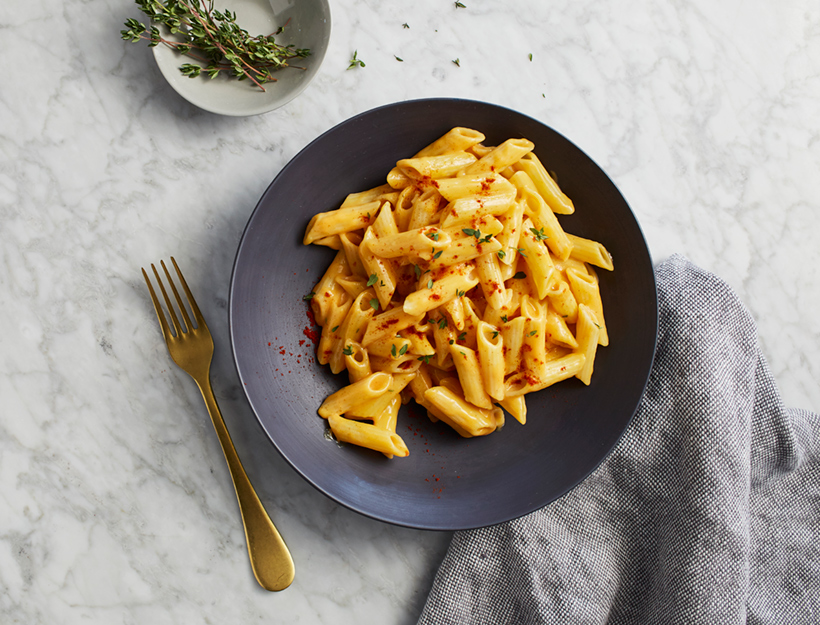 Superfood Vegan Mac 'N' Cheese
"If I didn't tell you this mac 'n' cheese was vegan, you'd never know. It's supremely gooey, thanks to a blend of carrots and potatoes that release their starches when cooked, resulting in the cheesiest of textures—with absolutely no dairy. The thyme and smoked paprika add an elevated touch. Did I mention it takes less than 15 minutes to make?"
1. In a medium pot, cover carrots and potato with cold water until they're submerged by one inch; bring to boil and boil until fork tender, about 15-20 min.  
2. Drain and let cool slightly, then transfer to blender and blend for one minute, scraping down the sides several times if necessary. You want to do the full minute, even if the mixture seems smooth already, so that the starches release from the potatoes and you get a gooey, cheesey texture.  
3. Add the rest of the ingredients, save for the thyme and the pasta, and blend until smooth. Stir in thyme leaves.
4. Prepare pasta according to package instructions, then mix with cheese sauce until each noodle is well covered.
5. Garnish with additional thyme and smoked paprika and serve immediately.
Originally featured in Cleaned-Up Comfort Foods