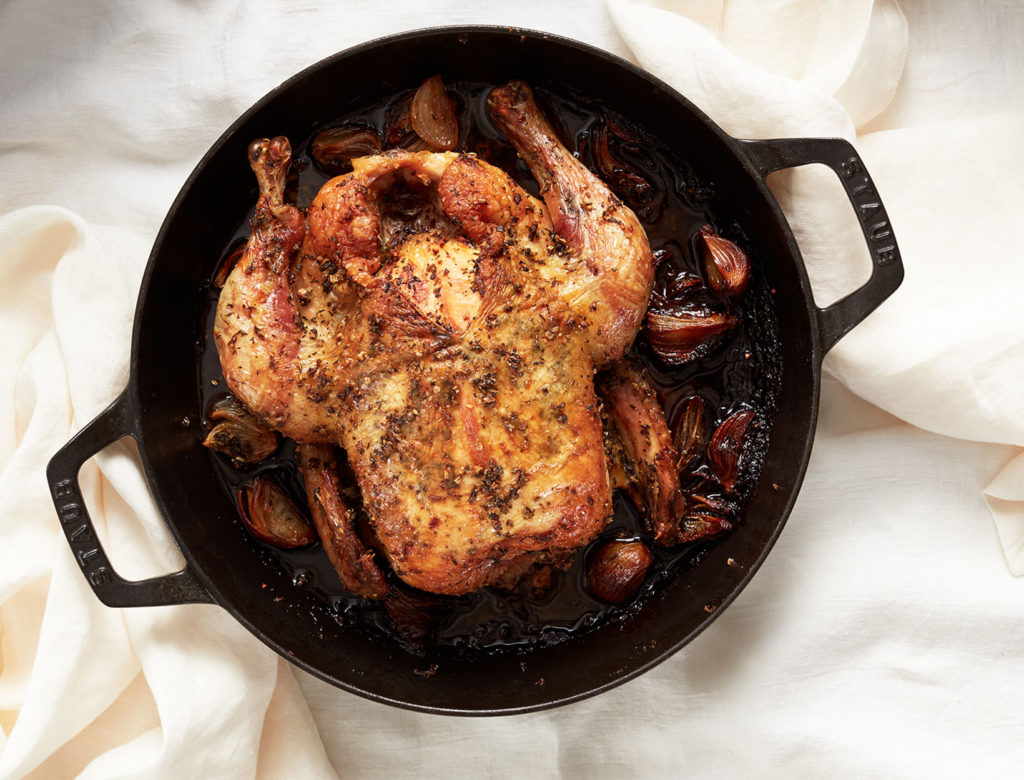 Super Herby Slow-Roasted Chicken with Shallots
We know a chicken on Thanksgiving is not the norm. But if you've got a small crowd, this might save you from two weeks of figuring out what to do with all those leftovers. Plus, the small size ensures that the meat will be juicy, with just the right mix of light and dark. However, if you are a turkey purist, you could definitely do a version of this with a bone-in skin-on turkey breast or an extremely small turkey. Just know that you'll need to tinker with timing based on the weight of your chosen bird—a good digital meat thermometer will be hugely helpful in determining doneness either way. Another departure from tradition is that we did not include a gravy recipe. The slow-roasted chicken is so moist that we were satisfied to serve it along with the herby drippings and those meltingly tender shallots. If you are super into gravy—we hear you. We've used this classic one for years.
1. Preheat the oven to 300°F.
2. Combine the herbs, lemon zest, garlic, fennel seeds, salt, and olive oil in a small bowl and mix well. Rub the mixture all over the chicken and under the skin on top of the breast meat.
3. Place the shallots in your roasting pan (a cast-iron or Dutch oven works here, too). Drizzle them with olive oil and then place the chicken on top of them.
4. Bake for 3 hours. It should register 165°F on a digital thermometer by then. Remove from the oven, gently cover with foil, and let rest for 20 to 30 minutes before serving.
Originally featured in A Streamlined Thanksgiving Menu