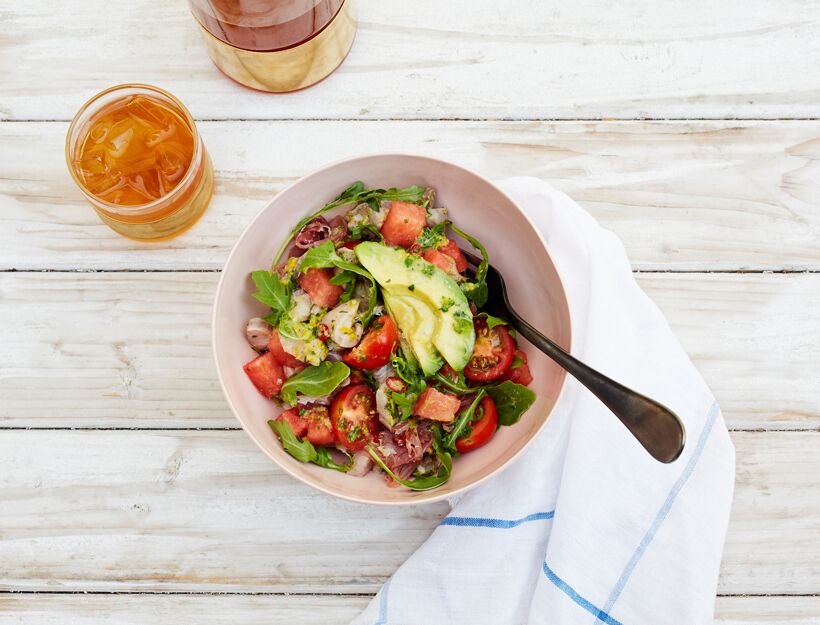 Summer Watermelon and Ceviche Salad
My watermelon ceviche salad is a celebration of summer and homage to my number one chef rule: Fresh is best. Citrus-marinated fish, coconut, chilled watermelon, and garden herbs fold together to create a healthy, flavor-packed salad with more colors than a Venice sunset. It's one of my favorite ways to serve fresh seafood and requires nothing more than a chopping board and a bowl. The fish actually cooks and tenderizes in the marinade's acidic citrus juices, making it melt-in-your-mouth delicious.
1. To make the marinade, put the juices, chili, onion, ginger, coconut cream, and half the coriander in a medium bowl and mix to combine. Add the fish and toss to coat. Cover and refrigerate for 1 hour.
2. Put the watermelon, tomato, avocado, arugula, and remaining coriander in a large bowl. Toss gently, add the marinated fish, and toss gently again.
3. Arrange the salad on a serving platter and scatter with the torn prosciutto.