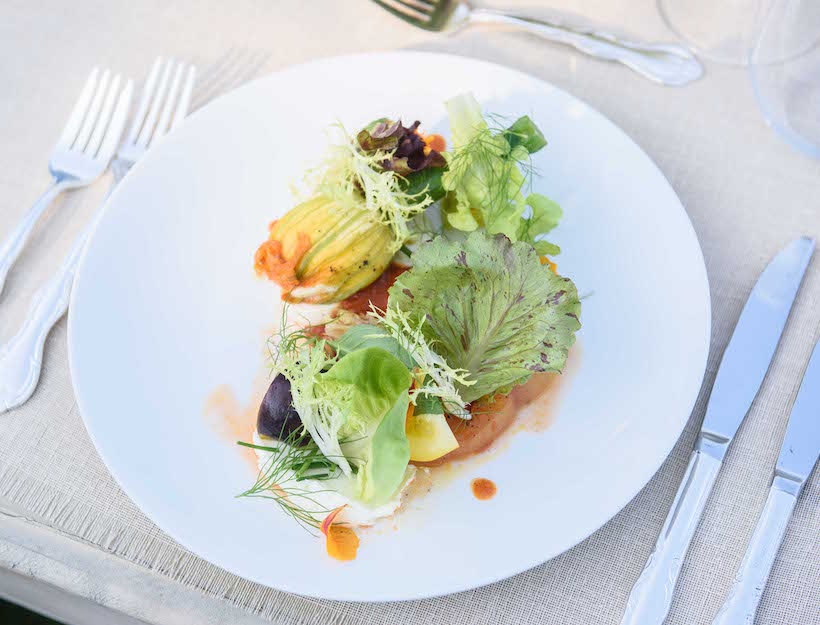 Summer Tomato Salad with Burrata and Squash Blossoms
We were slightly overwhelmed by the idea of making our own burrata and smoking our own tomatoes, so we opted to simplify this salad a tad. While not as complex as the original, this is still a showstopper of a summer salad.
1. Preheat the oven to 450 degrees.
2. Toss the cherry tomatoes with 2 tablespoons olive oil and season with salt and pepper. Transfer to a baking sheet, and roast in the oven for 10-15 minutes, or until blistered and starting to burst.
3. While the tomatoes roast, combine peeled garlic cloves and 6 tablespoons olive oil in a small saucepan over medium heat. When the garlic begins to simmer, turn off the heat and allow the oil to infuse and cool to room temperature.
4. When the tomatoes are ready, reserve half for plating, and combine the other half in a blender with the garlic cloves and oil, 3 tablespoons of the red wine vinegar, and basil leaves. Blend and season with salt and pepper to taste.
4. To assemble the salad, divide burrata between 10 salad plates.
5. Arrange the tomato wedges, sliced tomatoes, and reserved roasted cherry tomatoes on top of the cheese, season with a pinch of coarse salt, and drizzle over half of the vinaigrette.
6. Toss mixed greens with the remaining 2 tablespoons of olive oil, the remaining tablespoon of red wine vinegar, and salt and pepper to taste.
7. Top each pile of tomatoes and cheese with a handful of greens and 1 squash blossom flower, and drizzle over remaining vinaigrette.
Originally featured in The goop x Net-a-Porter Summer Dinner