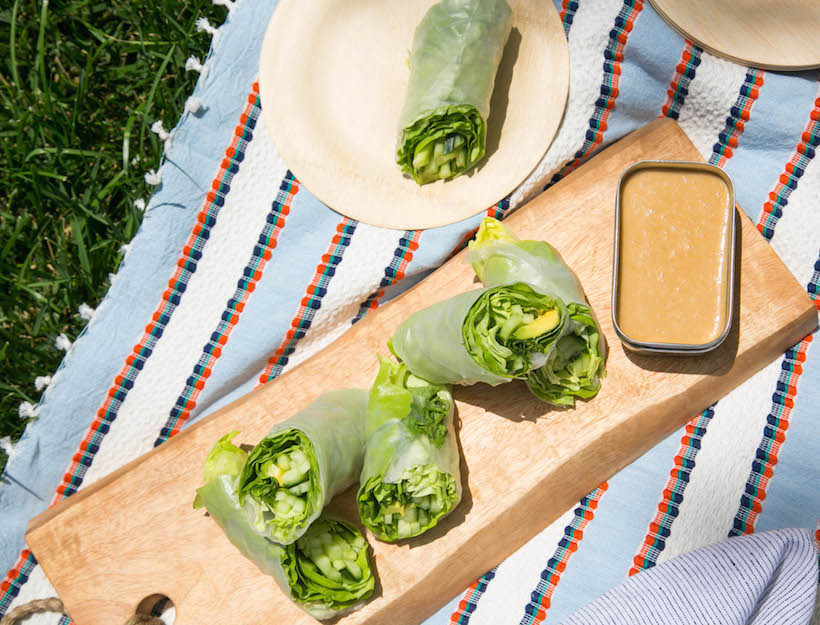 We love eating leafy greens with every meal, but figuring out how to pack them can be a major pain. Our solution? Roll butter lettuce, cucumber, avocado, and tons of fresh herbs in rice paper wrappers and serve with a tangy peanut sauce for dipping—all the nutrition of a green salad with none of the mess.
1. To make the peanut sauce, blend all ingredients until smooth.
2. Meanwhile, cut or tear the hard rib from each butter lettuce leaf and prep all other filling ingredients.
3. Fill a bowl large enough to hold the spring roll wrappers with warm water. Soak 1 wrapper for about 1 minute, or until just pliable, then lay flat on a cutting board. Layer in lettuce leaves, folding large ones in half, then fresh herbs, cucumber, and sliced avocado.
4. Carefully roll up the wrapper, leaving both ends open. Soak another wrapper and wrap the existing roll inside to secure ingredients.
5. Repeat with remaining wrappers and filling ingredients. Then pack in an airproof container, layering in a damp paper towel to keep the rice paper moist.
6. Serve with dipping sauce on the side.