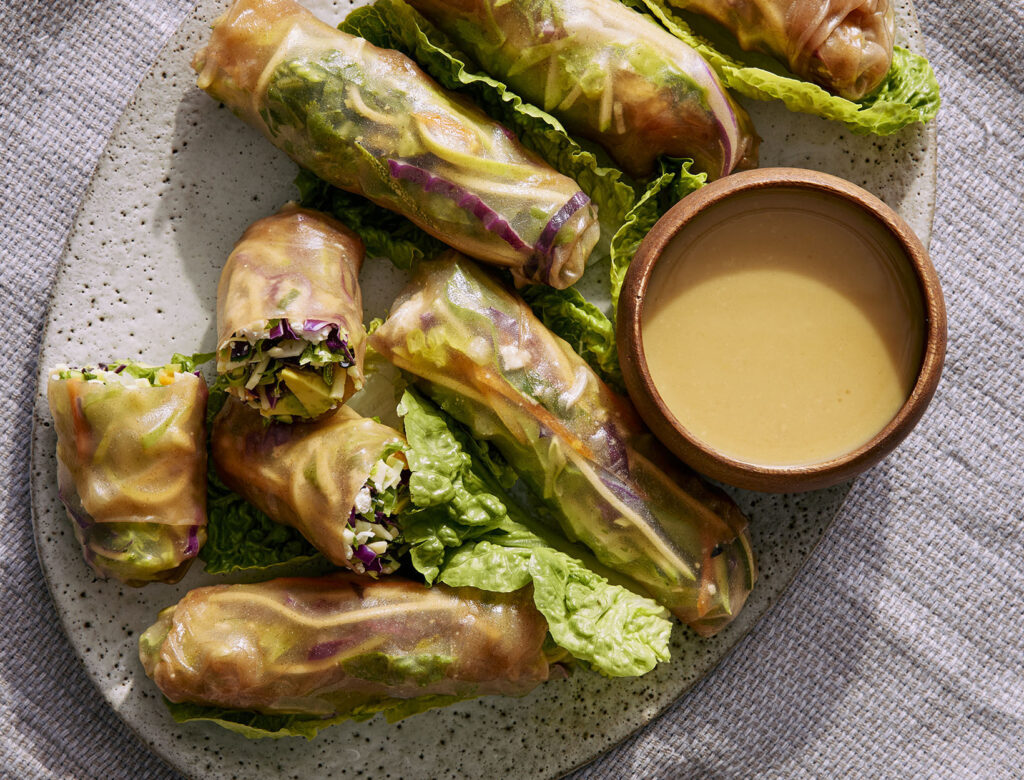 Summer Rolls with Miso-Dijon Dipping Sauce
The pairing of chickpea miso and Dijon here is reminiscent of the fish sauce we know and love. You can use any of your favorite veggies for the rolls. Using brown rice paper keeps this detox-friendly, and it's fun to wrap. (To make these rolls vegan, substitute the chicken breast for 8 ounces of firm tofu, crumbled.)
1. To prepare the chicken, place the breast in a pot and cover with cold water. Bring the pot up to a medium-low simmer on the stove and poach the chicken breast until cooked, taking care not to overcook. Once it's fully cooked, remove from the water and let cool. Dice the chicken once the temperature allows you to handle it.
2. Mix the first 8 ingredients together in a bowl. Cut the avocado into quarters and remove the peel and pit. Slice each quarter into 2 pieces.
3. To assemble the rolls, place the brown rice paper in room-temperature water and soak until the paper is pliable (about 30 seconds).
4. Place one paper on a surface and add some of the filling mixture to the center, taking care to not add too much, as the paper might rip. Place a piece of avocado in the center and wrap it like a burrito, nice and tight. Repeat until you have 8 rolls.
5. To make the dipping sauce, mix all the ingredients together in a bowl. Serve it alongside the summer rolls.
Originally featured in The Annual New Year Detox: 2023 Edition