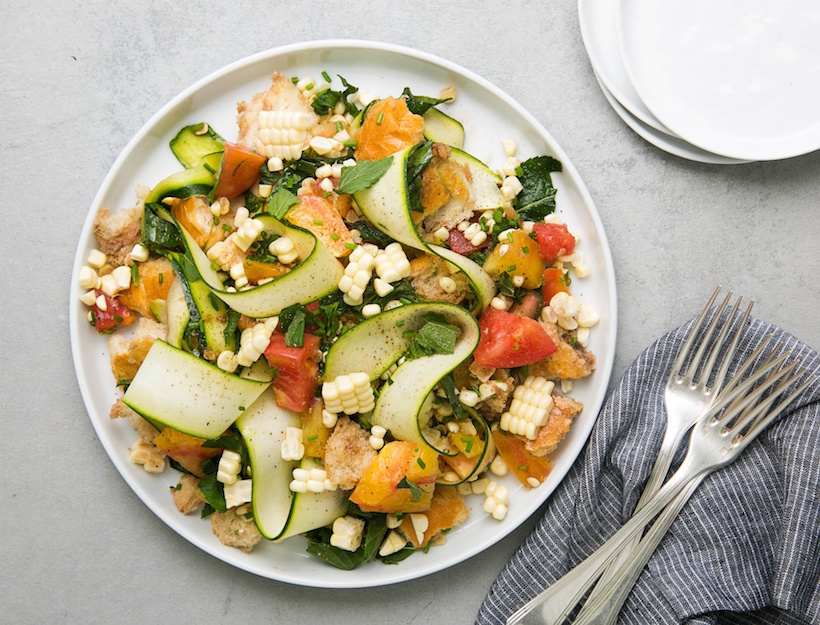 Summer Panzanella
Make this, grab a rotisserie chicken from the grocery store, and call it a day. Be sure to use a stale baguette for texture, or toss a torn fresh baguette in a hot pan, oven or toaster oven to crisp it up a bit (we know, we know, it's breaking the no cook cooking rules, but the slight crunch is essential).
1 ear of corn, shucked
1 large or 2 medium heirloom tomatoes, cut into bite size pieces
¼ – ½ stale baguette, torn into bite size pieces
¼ cup chives, finely chopped
½ cup basil leaves, chopped
¼ cup mint leaves, chopped
1 medium zucchini, shaved with a peeler or spiralizer
2 tablespoons red wine vinegar
1 tablespoon balsamic vinegar
¼ cup olive oil
1. Whisk together red wine vinegar, balsamic vinegar, olive oil, and a hearty pinch of salt in a large bowl.
2. Use a sharp knife to cut corn kernels from the cob and add to the bowl.
3. Add tomatoes, torn baguette, chopped herbs, and shaved zucchini and toss to combine.
4. Season to taste with salt and pepper and serve.
Originally featured in No Cook Cooking