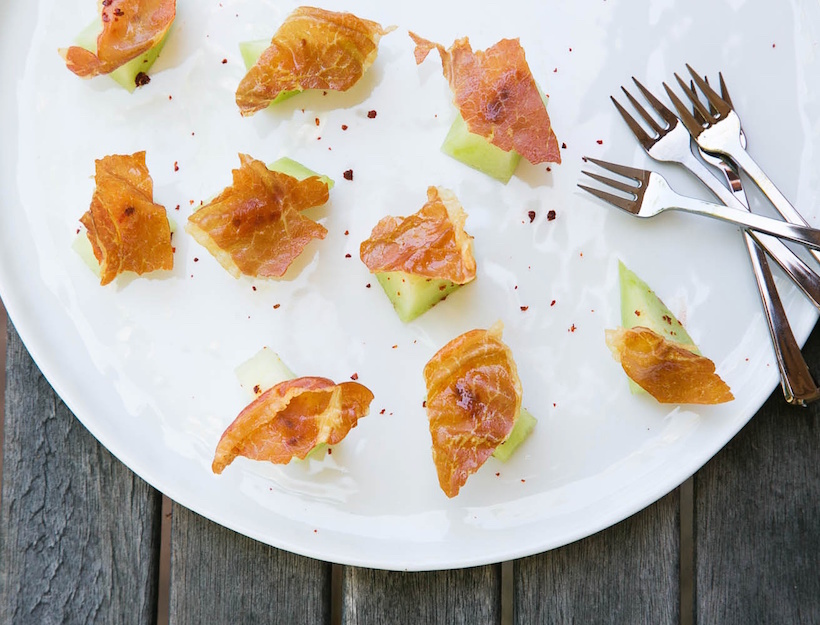 Summer Melon with Crispy Prosciutto
If you've ever been to Italy (or an Italian restaurant) in the summertime, you've undoubtedly seen melon and prosciutto. Sweet melon and salty prosciutto complement each other perfectly and make a delightfully easy appetizer or first course. Our slight modifications are baking the prosciutto, which gives lovely crunch, and adding a pinch of Marash chili for a bit of heat.
1. Preheat the oven to 375°F.
2. Lay the prosciutto on a baking sheet and bake in the oven for 10 minutes.
3. Meanwhile, remove the rind from the melon and cut into 24 bite-size pieces.
4. When the prosciutto is ready, pull from the oven and allow to cool to room temperature (it will crisp up as it cools). Once cooled, break each slice into 6 pieces.
5. When ready to serve, place the melon pieces on a large platter, sprinkle each with a bit of chili, and top with a crispy piece of prosciutto.
6. Serve with little forks or toothpicks.
Originally featured in Easy Summer Appetizers