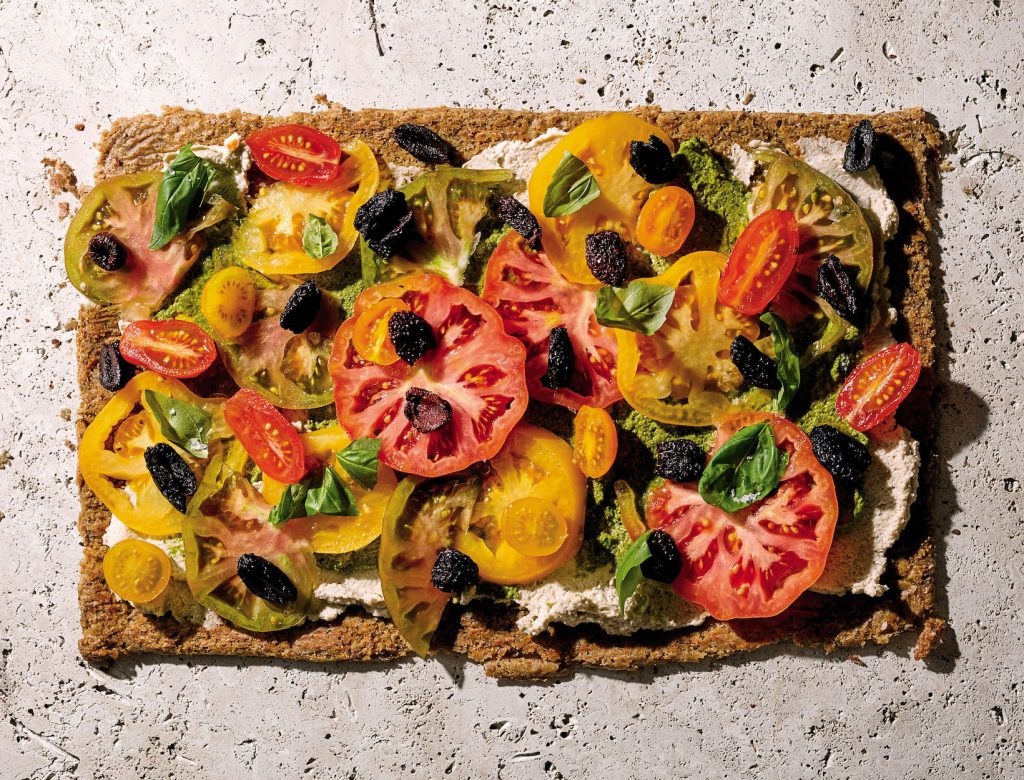 "Quite possibly my favorite recipe in the book, this raw tomato tart bursts with umami. It satisfies in ways I can't fully explain. If you don't have a dehydrator, use the oven; if you don't have the time, swap the crust for a pack or three of Moon Juice's Chard Cumin Crisps or Green Fermented Seed Crisps. But be sure to try making the long version at some point, as well. Summer comes alive in every bite." —Cindy DiPrima Morisse, CAP Beauty cofounder
1. Prepare cauliflower "rice" by tossing the florets into a food processor and processing until broken down and ricelike (or by grating them on a large box grater).
2. Measure out 2 cups and save the rest for another recipe.
3. Then combine the sunflower seeds, flaxseeds, and garlic in the food processor and process until the seeds break down, about 15 seconds.
4. Add in the 2 cups of cauliflower rice, coconut aminos or tamari, yeast, and salt. Process until well blended.
5. Spread out the dough on a parchment-lined dehydrator sheet, about ¼ inch thick. Dehydrate at 145°F for 1 hour and then 115°F for an additional 5 to 6 hours, or until it is the consistency you like.
6. Add toppings, starting with a spread of ricotta and pesto and top with the tomatoes, olives, basil, and a drizzle of olive oil. Top with a sprinkling of salt, and enjoy.
NOTE: You can bake this at 300°F for 15 minutes, checking every 5 minutes thereafter. Remove from oven when lightly golden brown and crispy.
For the sunflower ricotta:
1. Place the seeds in a large bowl and cover with filtered water. Let soak for 2 hours. Rise and drain, and add them to a food processor.
2. Add the water, vinegar, lemon juice, yeast, salt, and oil, and process until the desired texture is reached. Add more water, if needed. Allow to rest for an hour or so for best flavor.
For the pesto (makes 1½ cups):
1. In a food processor, combine the basil, dandelion and/or nettle, pumpkin seeds, hemp seeds, garlic, tamari, and salt. Process until well combined.
2. While the machine is running, slowly pour in the oil. When ready to serve, stir in the lemon juice to keep the sauce green and vibrant.
Recipe excerpted from High Vibrational Beauty. Copyright @ 2018 by Kerrilynn Pamer and Cindy DiPrima Morisse. Published by Rodale Books, an imprint of Crown Publishing Group, a division of Penguin Random House LLC.
Originally featured in Fresh, Summery Recipes from the Two of Our Favorite Clean Beauty Gurus