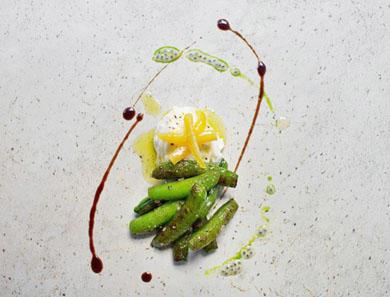 Sugar Snap Peas, Burrata, Bottarga & Meyer Lemon
From Orsa & Winston in LA, an elegant, vegetarian side salad.
2-3 oz. burrata cheese
10 -12 sugar snap peas, cleaned and quickly blanched
1 teaspoon shallots, minced
peel of 1 meyer lemon (with pith – fleshy white part), chopped
1 teaspoon granulated sugar
2 tablespoons water
extra virgin olive oil
aged balsamic vinegar
sea salt
freshly cracked black pepper
3 grates of bottarga (cured mullet roe), optional
1. Place burrata on plate and season with sea salt and pepper.
2. In a sauté pan over high heat, add 1 tablespoon of extra virgin olive oil. Once hot, add snap peas and sauté until slightly browned (1-1 ½ minutes). Turn off heat, add shallots and toss to combine.
3. Place cooked snap peas on plate with burrata.
4. Using the same sauté pan as before, add the chopped meyer lemon peel, sugar and water. Cook on medium heat until it forms a light syrup.
5. Spoon some of the cooked lemon mixture over burrata and snap peas. Finish with a drizzle of aged balsamic and extra virgin olive oil and 3 grates of bottarga (optional).
Originally featured in Under $100 Tasting Menus