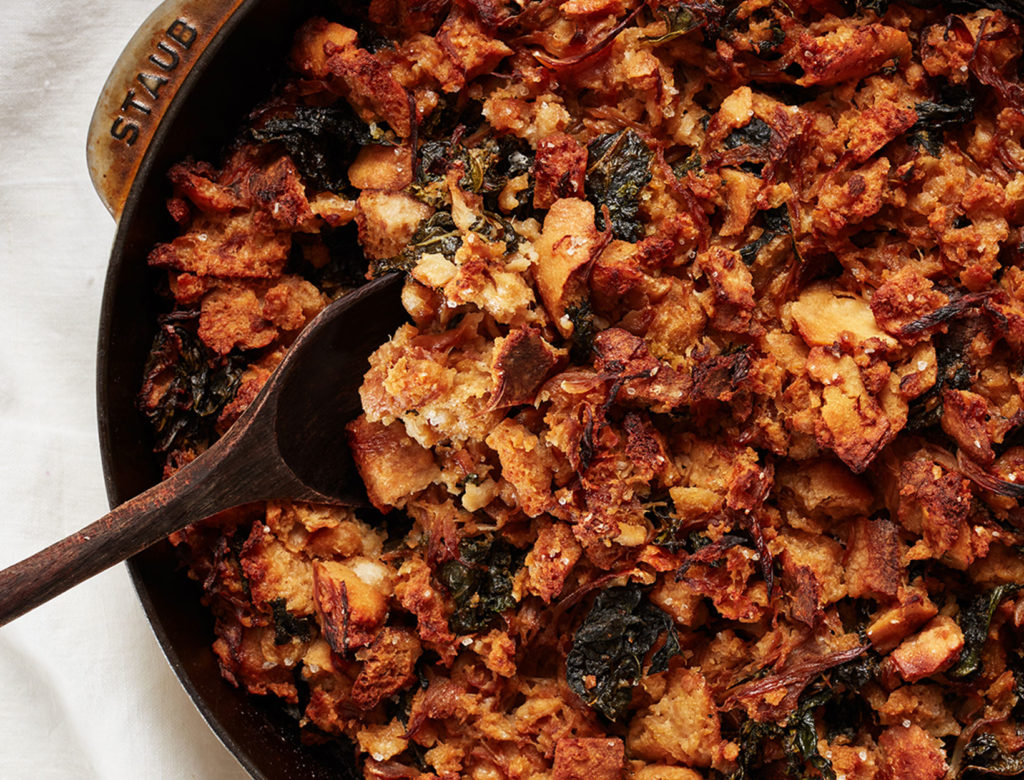 Stuffing with Caramelized Onions, Fennel, and Kale
Technically, this is a dressing because it's cooked outside of the bird, but we digress. Our version is packed with greens and keeps us coming back for seconds and thirds.
2 tablespoons olive oil
2 large yellow onions, thinly sliced
1 large bulb fennel, thinly sliced
salt
2 bunches curly kale, roughly torn
1 large loaf stale bread, torn into bite-size pieces (about 6 cups)
1 egg, beaten
2½ cups vegetable or chicken stock, plus extra if needed
¼ cup butter, cut into small chunks
1. Preheat the oven to 300°F.
2. Heat the olive oil over medium-low heat in a heavy-bottomed oven-proof pan (a cast-iron or a braiser will work). Add the onions and fennel along with a generous pinch of salt and let cook, stirring occasionally and adding more oil as needed, until deep brown and caramelized. This should take about 45 minutes.
3. Once caramelized, add another glug of olive oil, the kale, and a big pinch of salt. Combine and cook until just wilted. Then remove from the heat and let cool for a few minutes.
4. Add your torn bread, caramelized onion mixture, and stock to a large mixing bowl and toss vigorously to coat all the bread with the stock and veggies. Next add the beaten egg and mix well. If the mix seems dry, add a splash more stock. (Keep extra stock on hand in case it seems dry while it cooks in the oven; you can always add a bit more then.)
5. Take a bit of the butter and grease the bottom of the pan you cooked the onion mixture in—this is now your baking dish. Add the mixture to the pan and top with the remaining butter.
6. Cover with a lid or foil and bake at 300°F for about 40 minutes, then remove the cover and bake at 425°F for about 15 minutes, or until golden brown on top.
Originally featured in A Streamlined Thanksgiving Menu