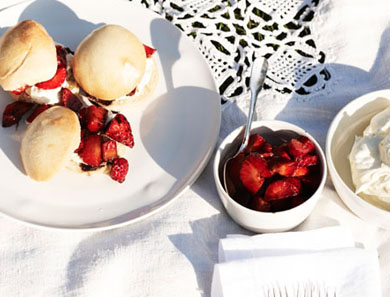 Strawberry Shortcake Sliders
A healthy twist on a classic we love, we make the biscuits with spelt flour instead of white, as spelt is said to be easier to digest.
1. Preheat oven to 475°.
2. Whisk 2 1/2 cups spelt flour and next 3 ingredients in a large bowl.
3. Using fingertips, blend in the shortening; form a well in center of mixture.
4. Whisk 1/2 cup buttermilk, yogurt, and agave in a small bowl; pour into flour mixture; stir with a fork to blend.
5. Transfer to a lightly floured work surface. Knead 2 or 3 times to bring dough together. Press dough into a 3/4″-thick round. Using biscuit cutter, cut the dough into rounds. Gather scraps; repeat cutting until all dough is used.
6. Place the biscuits on an ungreased baking sheet; brush with buttermilk.
7. Bake until golden brown and a tester inserted comes out clean, about 10 minutes. Transfer to a wire rack; let cool completely.
8. Mix strawberries and agave in a medium bowl.
9. Drizzle vinegar over; toss.
10. Cut biscuits in half. Place 3 biscuit bottoms on each plate. Spoon whipped cream over each and top with strawberry mixture. Place biscuit tops over.
Originally published on Bon Appetit.