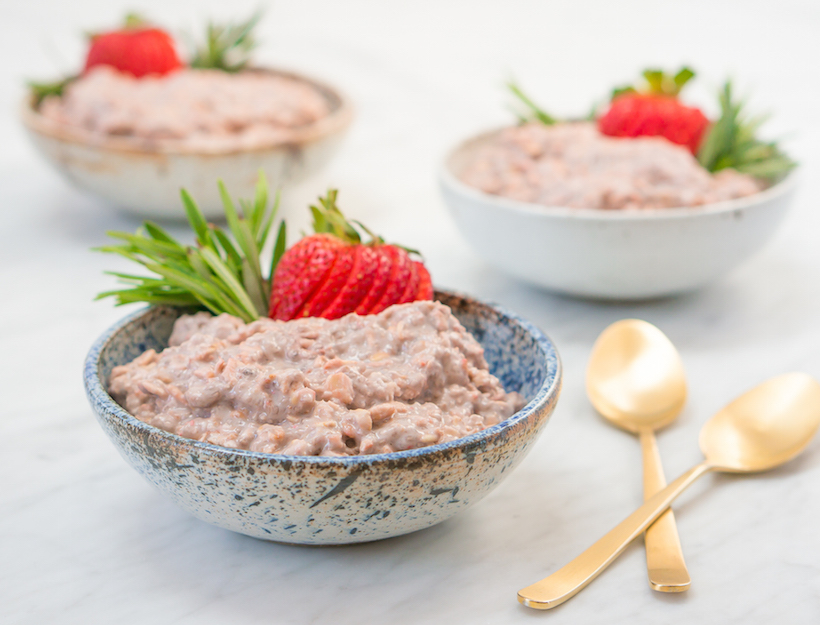 Strawberry Rosemary Overnight Chia Oatmeal
I love having overnight oatmeal as a summer breakfast. There's something so lovely about being able to simply open the fridge door upon waking and have a delicious meal at the ready. The addition of chia adds a wonderful texture, plus tons of protein and fiber that will help clear any gunk out of your system. The flavor, a combination of bright, sweet strawberry and earthy, herby rosemary, is at once comforting and exciting in that can't-put-your-finger on it way. You can also use frozen strawberries if you can't find any high-quality fresh ones—go for roughly 2 cups worth.
1 cup milk of choice (I like to use my homemade coconut cashew milk)
8 ounces fresh strawberries, stems removed
⅛ teaspoon salt
½ teaspoon vanilla extract
2 teaspoons honey
4 stems fresh rosemary (do not remove leaves from stem)
2/3 cup oats
2 tablespoons chia seeds
1. Add milk of choice and rosemary to a small saucepan. Cover and bring just to boil over medium heat, then remove from heat and let steep, covered, for about 10-15 minutes. Remove rosemary and discard.
2. Blend milk with strawberries, vanilla, honey, and salt until very smooth.
3. Add oats and chia to a glass jar or container, then pour the strawberry mixture over it and stir until oats and chia are well distributed.
4. Cover and let sit at least 4 hours, but preferably overnight. In the morning, stir well before serving.
Originally featured in A Quick, Three-Day Summer Detox