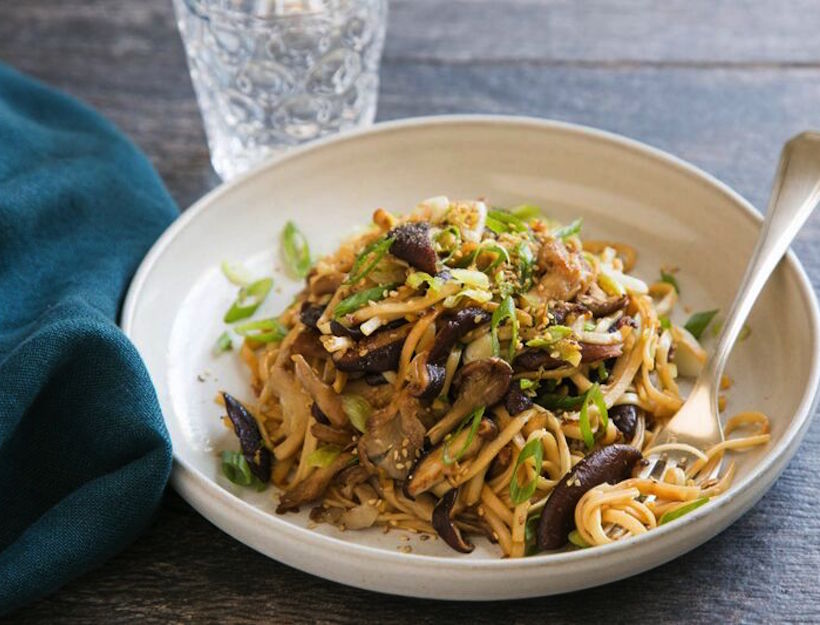 Stir-Fried Noodles with Mushrooms
If you have leftover cooked noodles, this dish takes under 10 minutes to cook. Plus it's delicious and full of nutritionally beneficial mushrooms.
2 tablespoons coconut or olive oil
¼ pound shiitakes and/or oyster mushrooms
salt to taste
1 teaspoon ginger, finely-minced
1 teaspoon garlic, finely-minced
1 cup cooked soba noodles
2 scallions, thinly-sliced
1 tablespoon soy sauce
splash sesame oil
squeeze of lemon juice
1 ½ teaspoons mirin
sesame seeds, to garnish
1. Heat oil in a wok or large sauté pan over medium-high heat. When oil is hot but not smoking, add mushrooms and a pinch of salt. Cook until tender and starting to brown, about 5-7 minutes.
2. Add ginger and garlic and cook 1 more minute, stirring to combine.
3. Add noodles, scallions, soy sauce, sesame oil, lemon juice, and mirin. Use tongs or a wooden spoon to combine and heat through all ingredients.
4. Remove to a plate and garnish with sesame seeds.
Originally featured in The Healing Power of Mushrooms