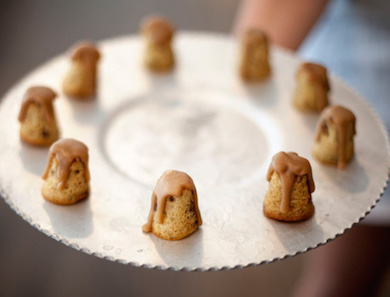 We worked with the team over at Mary Giuliani Catering to build an appropriately British menu for our Stella McCartney x goop party—from fish n'chips, to tea sandwiches, sticky toffee pudding and more, done in party-friendly mini versions.
1. Preheat oven 350°F. Butter and flour silicone molds. Bring dates and 1 1/4 cups water to a boil in a medium heavy saucepan. Remove from heat. Stir in baking soda (mixture will become foamy). Set aside and let cool.
2. Whisk 1 1/2 cups flour, baking powder and salt in a small bowl. Using an electric mixer, beat 1/4 cup butter, sugar and vanilla in a large bowl to blend. Add 1 egg; beat to blend. Add half of flour mixture and half of date mixture; beat to blend. Repeat with remaining 1 egg, flour mixture and date mixture. Pour batter into mold.
3. Bake until a tester inserted into center of cake comes out clean, about 40-45 minutes. Let cool in pan on a wire rack for 30 minutes. Invert pudding onto rack.
4. To make the sauce, bring sugar, cream and butter to a boil in a small heavy saucepan over medium heat, stirring constantly. Continue to boil for 3 minutes. Remove from heat. Stir in brandy and vanilla.
5. Once the sauce has cooled, dip pudding into sauce and immediately turn over so sauce drips down the sides.
Originally featured in Summer Party Bites