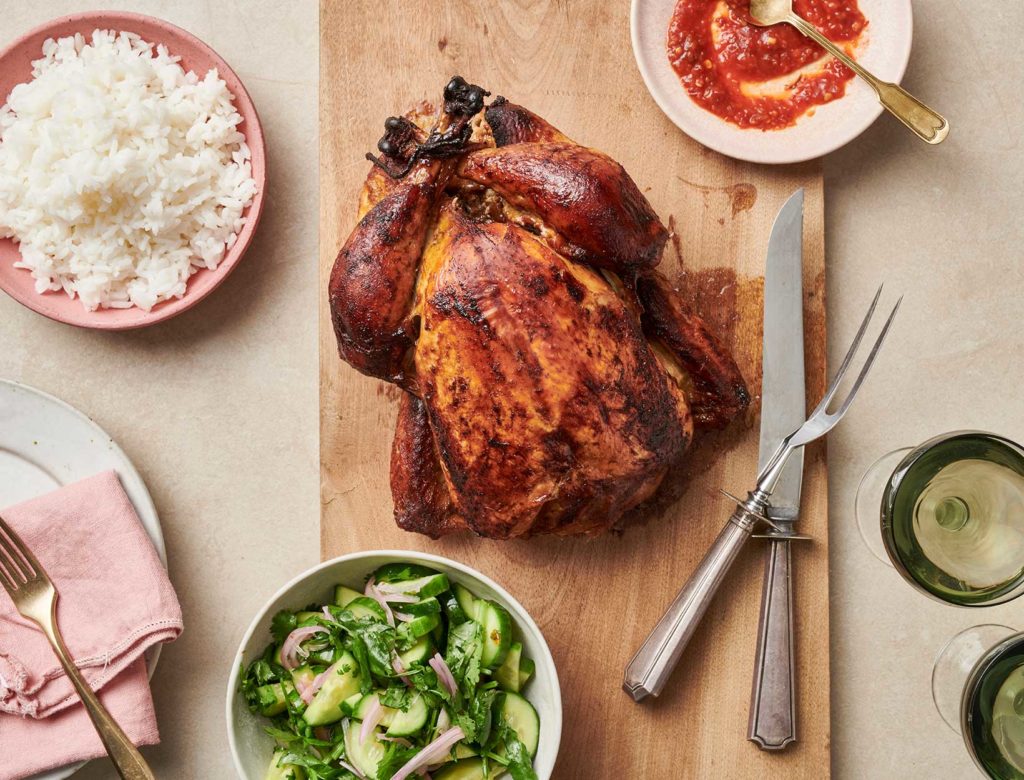 Sticky-Sweet Lemongrass Roast Chicken
We were inspired to create this recipe while eating one of our favorite Thai takeout dishes, gai yang. The combination of sweet and sticky marinated chicken, aromatic jasmine rice, cool cucumber salad, and spicy sambal oelek gives you all the tastes, textures, and temperatures in one meal. And using a rice cooker makes it easier to get dinner on the table.
1 shallot
4 cloves garlic
1 2-inch piece ginger
1 2-inch piece lemongrass
juice of 1 lime
2 tablespoons tamari
2 tablespoons coconut aminos
¼ cup fish sauce
1 tablespoon cilantro stems
1 4-pound chicken
4 Persian cucumbers, chopped into ¼-inch half moons
1 shallot, thinly sliced
1 bunch cilantro, roughly chopped
2 tablespoons sweet chili sauce
1 tablespoon rice vinegar
To serve:
cooked jasmine rice
sambal oelek
1. Combine the first 9 ingredients in a blender. Blend until smooth. Add the chicken to a 1-gallon zip-top plastic bag (or a reusable silicone food-storage bag) and pour the marinade over it, making sure the chicken has been covered evenly. Let marinate in the fridge overnight.
2. When ready to cook, preheat the oven to 300°F. Transfer the chicken from the bag to a sheet tray. Roast the chicken for 3 hours, rotating the pan once halfway through. Let rest at least 10 minutes before carving.
3. While the chicken rests, toss the cucumbers, shallot, and cilantro in the sweet chili sauce and rice vinegar. Serve the chicken with the cucumber salad, jasmine rice, and sambal oelek.
Originally featured in 4 Foolproof Ways to Season and Serve a Roast Chicken