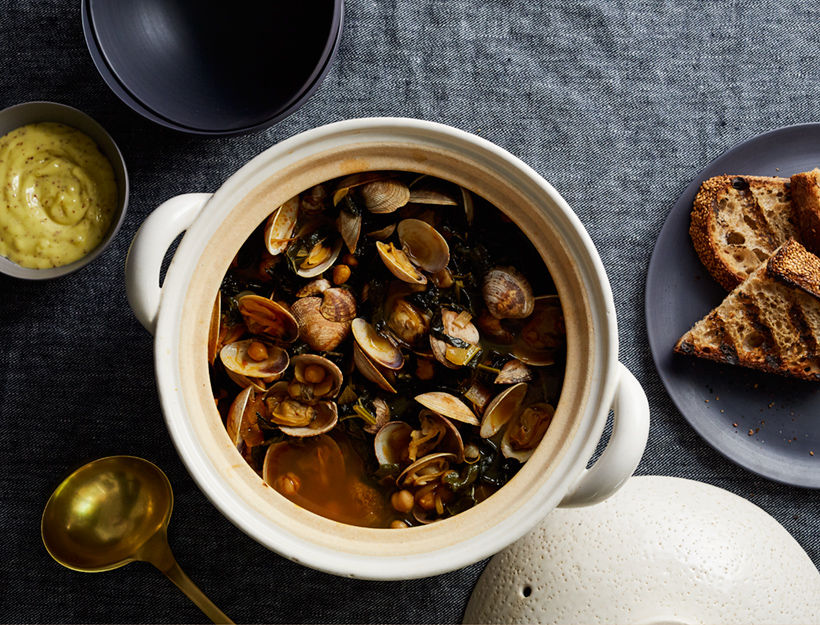 Steamed Clams with Kale and Chickpeas
Equally perfect for a dinner party or a weeknight at home, this simple clam dish comes together in about 20 minutes and covers all of your food groups. Serve with a simple salad and grilled bread to dip in the fragrant broth.
1. Heat olive oil in medium donabe (or dutch oven) over medium heat. Add onion, garlic, and a generous pinch of salt and cook for 5-7 minutes, or until tender and just starting to brown.
2. Add tomato paste, chili flakes, smoked paprika and saffron and sauté for 1 minute.
3. Add sherry and cook for about 3 minutes, or until most of the alcohol has cooked off.
4. Add the stock, chickpeas, and kale and bring the mixture up to a simmer.
5. Add the clams, cover, and cook for 5 minutes, or until all of the clams have opened.
6. Add salt and pepper to taste and serve with grilled bread for dipping.
Originally featured in One-Pot Dinners