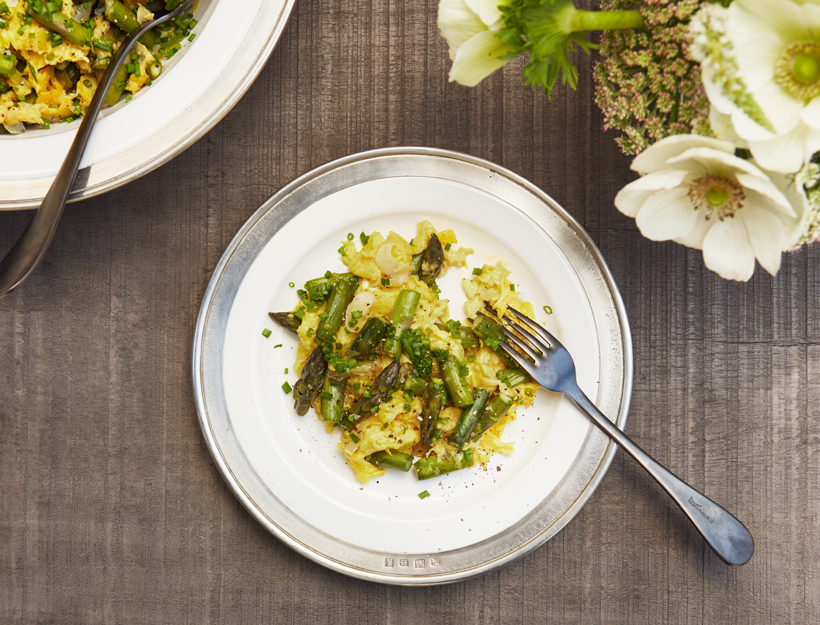 As easy as it is elegant, this scramble is pretty much guaranteed to become a permanent addition to your breakfast and brunch repertoire.
1. Heat 2 tablespoons of olive oil and 2 tablespoons of butter in a large sauté pan over medium heat. When the pan is hot and the butter has melted, add the leeks and a generous pinch of salt and sauté for 5 minutes. Add the asparagus and another big pinch of salt and sauté 5 more minutes, or until tender (this might take more or less time depending how thick your asparagus is).
2. While the leeks and asparagus cook, crack the eggs into a large bowl, whisk to combine, and season generously with salt and pepper. Remove the sautéed vegetables to a bowl and add the remaining 2 tablespoons of olive oil and 1 tablespoon of butter to the pan.
3. Pour the eggs into the pan and cook over medium-low heat for 5 to 7 minutes, scraping the bottom of the pan and stirring constantly with a spatula. When the eggs are almost set but still a bit runnier than you like them, add the sautéed leeks and asparagus back into the pan, stir to combine, then transfer to a serving platter.
4. Garnish with chopped chives and serve immediately.