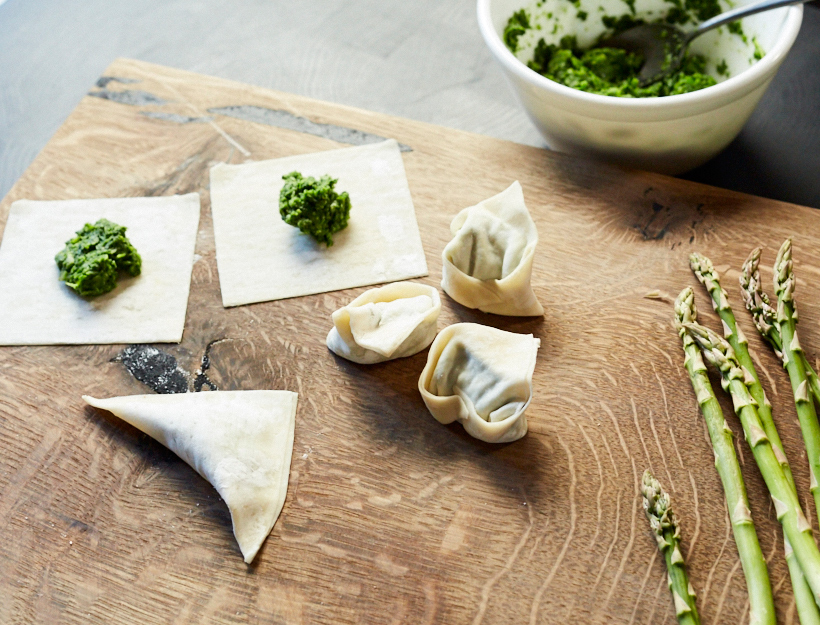 We can't get enough of these little veggie-packed green dumplings. The folding takes a bit of time and practice, but the end result is worth it, so enlist some friends (or your kids) to help!
1. Bring a saucepan of salted water to a boil and prepare a medium bowl with ice water.
2. Add the asparagus to the saucepan, bring the water back to a boil, remove the asparagus with a slotted spoon and transfer to the ice water to shock (this will help it retain its beautiful green color).
3. After 1 minute, transfer the asparagus to a dish towel to dry.
4. Repeat this technique with the peas and then the spinach – blanching, shocking, and draining. Use your hands to squeeze all of the extra liquid out of the spinach after draining.
5. Transfer the blanched veggies to a medium bowl and use an immersion blender to blitz them all together (you can also finely chop with a knife or use a food processor).
6. Add the tamari, sesame oil, ginger, scallion, and lemon zest, and season with a little salt to taste, if desired.
7. Place 6 dumpling wrappers on a cutting board or work surface. Spoon a small mound of filling onto each one (about 1 teaspoon), then wet each of the edges with a little water.
8. Fold the dumpling in half to make a triangle, then fold the two bottom points behind and press together, using a little more water to help make them stick.
9. Continue making dumplings in this manner until you've used all of the filling.
10. To cook, line a steamer basket with a paper liner or parchment round then arrange as many dumplings as will comfortably fit inside (you'll likely need to cook them in batches).
11. Choose a wok or pot that is at least as wide as the steamer basket and fill it halfway with water (you want the steamer basket to nestle just inside the wok without touching the water). Bring the water up to a simmer.
12. Place the steamer basket on top of the wok, cover with the lid, and steam for about 10 minutes, or until the wrappers are translucent and tender.
13. While the dumplings steam, combine the dipping sauce ingredients in a small bowl.
14. Eat the first round of dumplings while you cook the second.
Originally featured in Dim Sum for Dummies—Plus, Our Favorite Spots Around the World