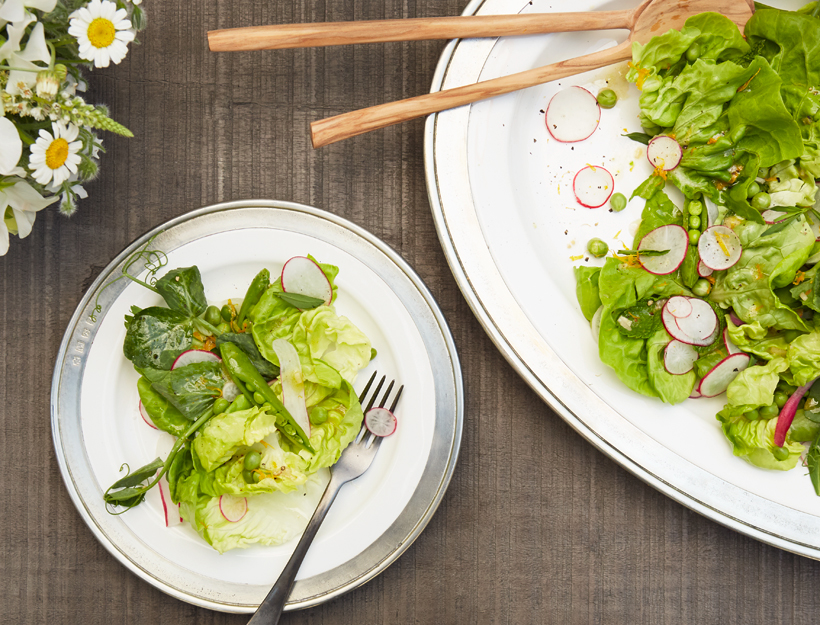 Spring Pea & Fresh Herb Salad
Bright with lemon zest and fresh herbs, this simple salad makes an elegant addition to any brunch, lunch, or dinner spread. If you're serving this as part of a buffet, consider leaving the dressing on the side so the butter lettuce doesn't get soggy as it sits.
for the salad:
1 head butter lettuce, washed and dried, leaves roughly torn
1/3 pound fresh shelling peas (about 1/3 cup shelled peas)
1/3 pound sugar snap peas (about 25), strings removed and cut into ½-inch slices
8 spring radishes, thinly sliced
1 ½ tablespoons chopped tarragon leaves
2 tablespoons chopped fresh mint leaves
for the dressing:
1 tablespoon minced shallot
½ teaspoon finely grated lemon zest (we use a microplane)
1 tablespoon lemon juice
1 teaspoon Dijon mustard
4 tablespoons olive oil
salt and pepper to taste
1. Combine all the salad ingredients in a large bowl.
2. To make the dressing, whisk together the first 5 ingredients and season to taste with salt and pepper.
3. Toss with the dressing and add more salt and pepper to taste.
Originally featured in The Ultimate Mother's Day Brunch Spread