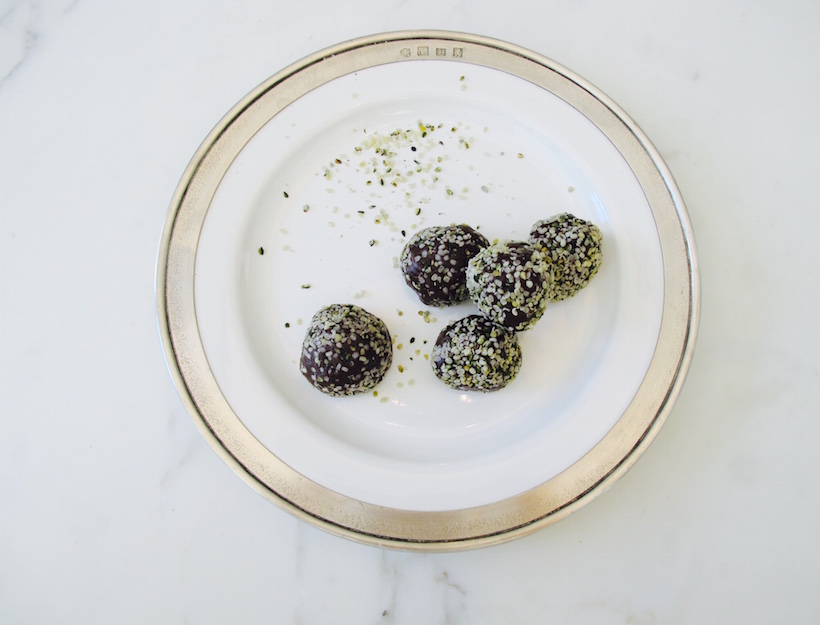 Spirit Truffles
The combination of spirit dust and hemp seeds makes these the most intense (and healthiest!) chocolate truffles we've ever eaten.
¼ cup coconut oil
½ cup cacao
2 teaspoons Spirit Dust
¼ cup raw honey or a few drops of stevia
1 tablespoon cold almond milk
2 tablespoons hemp seeds
Warm the coconut oil in a glass bowl set over a small saucepan of simmering water until it melts. Remove from the heat, and whisk in cacao, spirit dust, and sweetener until fully combined. Add the cold almond milk and use a spatula to mix it in thoroughly. The almond milk should help the mixture firm up and become pliable, but ingredients vary, so add a bit more cacao or almond milk if necessary. Using your hands, roll the chocolate into 12 balls, then roll each one in hemp seeds to coat thoroughly. Place in the fridge (or freezer, if you are in a hurry) for at least 10 minutes to set. Story any leftover truffles in the fridge.
Originally featured in Sex Bark, Spirit Truffles & a Moon Juice Kitchen Takeover