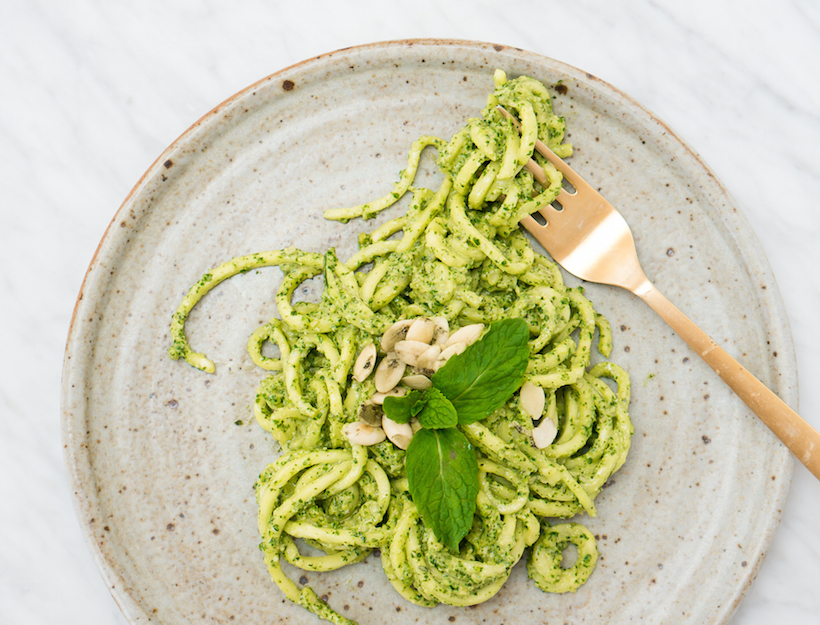 Spiralized Zucchini Noodles with Mint Parsley Pepita Pesto
The first time I spiralized a zucchini, even I was shocked at just how satisfying the resulting "zoodles" were to my pasta-loving self. Covered in a sophisticated play on pesto that takes advantage of magnesium-rich pepitas, stomach-soothing mint and chlorophyll-packed parsley, this is a meal that will please even the pickiest of palates (it's a great one to make if you're having company over on any night of your detox!). It also takes less than 5 minutes to make—a recipe where the hardest part is pressing a button on your food processor is always two thumbs up in my book. If you don't have a spiralizer, simply prepare one serving of brown rice noodles and shave one zucchini into them before covering with sauce.
1. Using a spiralizer, create long ribbons with your zucchini.
2. In a food processor or blender, pulse together all pesto ingredients.
3. Toss with a generous coating of pesto (reserve any leftovers for future use).
Originally featured in A Quick, Three-Day Summer Detox