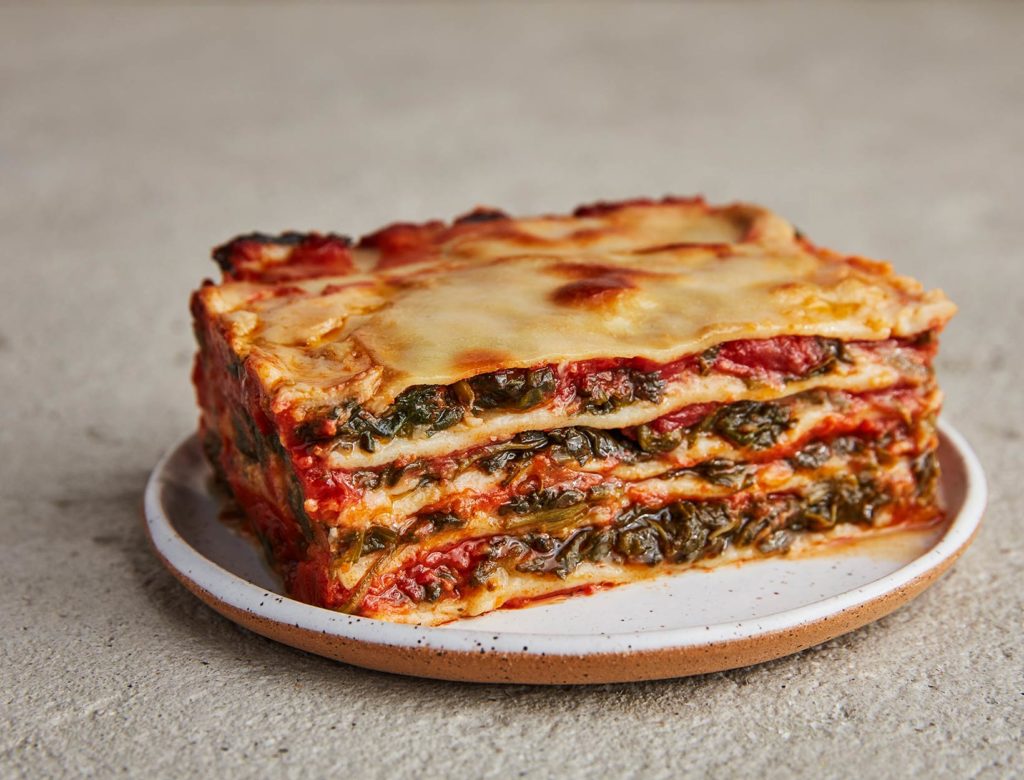 Easy Spinach Lasagna with Cauliflower Béchamel
Making lasagna in a loaf pan is brilliant for a couple of reasons: You get double the crispy edges, and we love having a homemade lasagna that's a little smaller to cut down on baking time. The full recipe is for two loaves, so you can freeze one for a rainy day.
1. First make the cauliflower béchamel. Break the cauliflower into small florets, discarding most of the stems. Add the florets to a saucepan along with the stock, Parmesan rind, and garlic. Bring to a boil, then reduce to a simmer until the cauliflower is extremely soft. Discard the Parmesan rind and, using a slotted spoon, carefully transfer the cooked cauliflower and garlic to a powerful blender. Add the cooking liquid a tablespoon at a time as needed to get your desired consistency. Taste for seasoning and add salt as needed. Set aside.
2. Heat the olive oil in a skillet over medium-high heat. Add the smashed garlic and chili flakes. Once fragrant, cook for a couple of minutes, then add the spinach and cook for about 4 minutes, just until all the flavors have come together. Season with a pinch of salt and set aside to cool.
3. To assemble the lasagna, get 2 standard loaf pans (1 to have for dinner now and 1 to freeze for later). In the base of each, spread a generous spoonful of marinara. Then add a noodle, then the cauliflower bechamel, then the spinach, then more marinara, then another layer of noodle. Repeat this until you get to the top, finishing with a layer of cauliflower bechamel.
4. Bake covered with foil at 375°F for about 30 minutes, then remove the foil, raise the temperature to 425°F, and bake for another 15 to 20 minutes. Let stand for 5 to 10 minutes before cutting into it.
Originally featured in Freezer-Friendly Dinners You Can Make Once and Eat Twice